What is the best color for 2020? The Pantone color institute has announced that 2020 color of the year is classic blue, the deep blue tone, which is classic, dependable and seasonless, sending a feel of calm to any interior spaces. The classic blue is a timeless and enduring tone that brings a sense of peace, that is popular tone for many home decoration. MM-Mosaic as a professional of mosaic tiles here share some beautiful mosaic tiles designs that work perfect to bring Pantone's classic blue into spaces. Read on and see how they produce a timeless look in the way.
1. Classic Blue Diamond Shape Kitchen Backsplash
All your blue dream will come true in this gorgeous kitchen below, the combo of blue and light wood makes a classic palette for the room, and it is popular in most kitchens. The color combo works perfect from the kitchen cabinet to the kitchen island, our 2020 new launched diamond shape mosaic tile in dark blue creates a stunning backsplash design which is paired well with the furniture. The irregular shape with kiln surface treatment makes a unique surface pattern, its vivid dark blue hue helps to make the space calm and welcoming!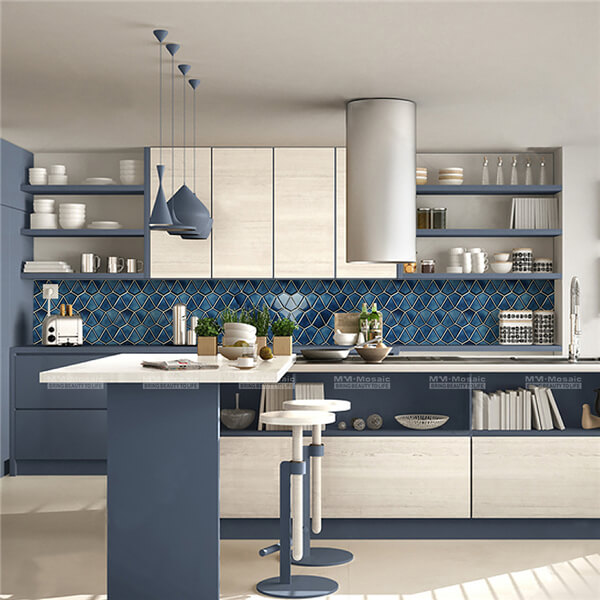 Featured product: diamond shape porcelain blue mosaic tiles kitchen ZOB1604
If you love this diamond pattern, you may like to read: Style Collection: Crystal Glazed Diamond Shape Porcelain Mosaic >>
2. Classic Blue Fish Scale Kitchen Backsplash
Will you decorate your kitchen in all-blue color? I said "YES" at the first sight of the kitchen below! The vintage blue-painted cabinet is a classic take and adds a unique appearance. It perfectly matches the blue mini-fish-scale tiling backsplash seamlessly to build a modern kitchen.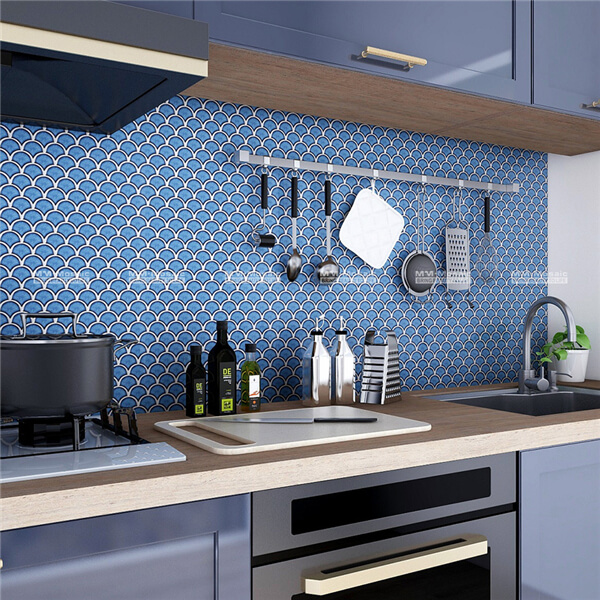 Featured product: mini fish scale tile backsplash blue ZOB1603
If you love this mini-fish-scale pattern, you may like to read: Style Collection: 48x40MM Crystal Glazed Mini Fish-scale Porcelain Mosaic >>
3. Classic Blue Triangle Backsplash
The design of backsplash can make a great impact on your whole space appearance. Triangle tile is poping up in both residential and commercial space for these tiles add timeless geometric beauty to space and can easily draw people's attention by its shape. The modern kitchen below takes a fresh take on blue triangle tiles with glossy finish, the backsplash area is neat, those cartoon mugs and letter cups give you a cheery cooking environment.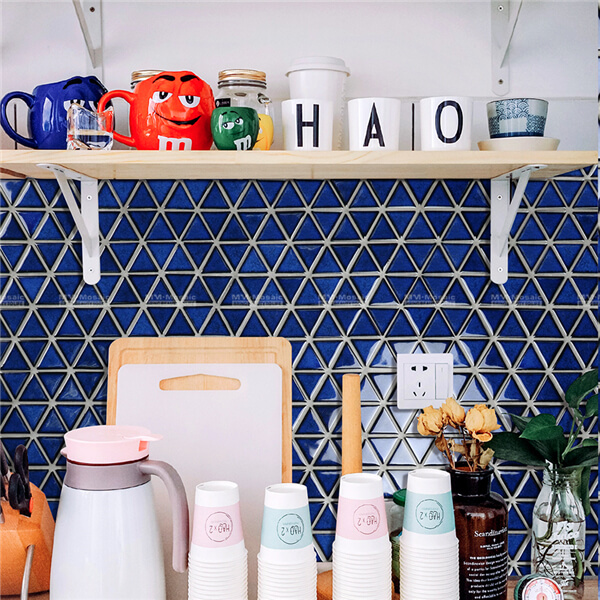 Featured product: triangle mosaic tile blue for modern backsplash CZO657A
If you love this triangle pattern, you may like to read: Introducing Our 2" Crystal Glazed Regular Triangle Mosaic Tiles >>
4. Classic Blue Fish Scale Half-Wall
If you prefer to keep your bathroom more brighter and lighter, then choosing a blue-white palette for your bathroom would get big surprise! The blue-white palette is a typical and classic color combination that can surely enhance various home styles. We do like the bathroom below, it is small but doesn't feel crowded. The fish scale tiling half wall add depth to space, the room seems larger with many white areas including glossy white bathtub, white marble floor and wall cladding, oversized mirror with integrated light.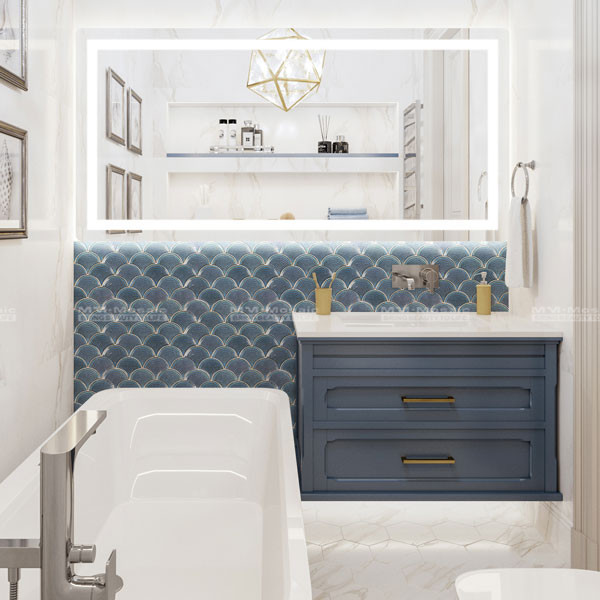 Featured product: fan shaped mosaic tile blue for bathroom wall decor ZOC3601
If you love this uneven fish-scale pattern, you may like to read: Style Collection: Fantastic Uneven Fish-scale Porcelain Mosaic >>
5. Classic Blue Stackbond Bathroom Backsplash
This chic guest bathroom goes vintage style, and features white painting wall, dark blue cabinets, round mirror and rectangle split face tiling splashback. These blue rectangular stacked bond tiles come in a split face to bring a touch of rustic, that is especially attractive, bringing a sense of quality to the space. Adding a vase of greens is a great way to bring the space back to life. All your guests will be impressed when they enter into this bathroom.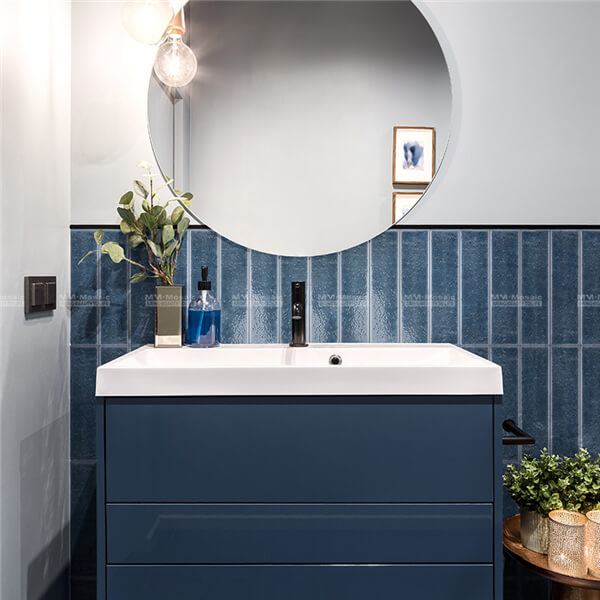 Featured product: handmade split face classic blue tiles for bathroom CZO601JF
If you love this split face pattern, you may like to read: Style Collection: 60x240mm Crystal Glazed Split Face Tile Bricks >>
6. Classic Blue Fish Scale Accent Wall
Your shop design will decide whether customers want to stay or not after they step into your shop. Tiling your one side of your store to serve as an accent wall with our blue fish scale tile can attract customers. You can choose tiling the wall partially, and painting the the rest part of it. Remember that the blue paint color is best to stick with the tile shade to achieve a level of uniformity. Having something brass finish in your shop decoration will dominate the year of 2020, providing comfortable rest area can help to push off the time customers leave your shop.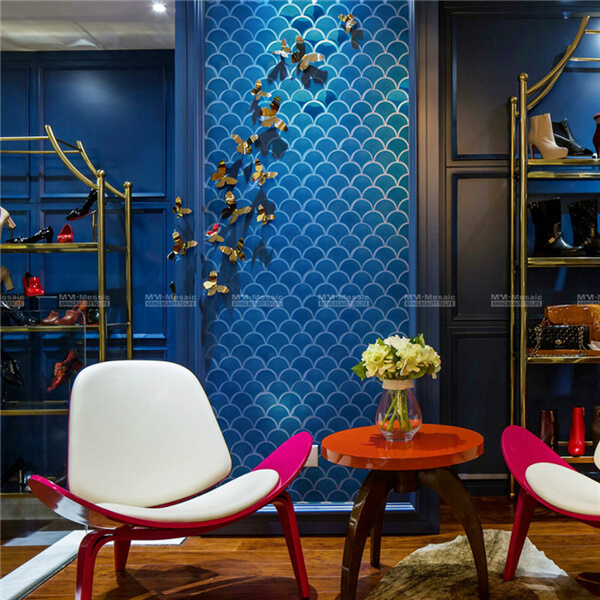 Featured product: crackle fish scale mosaic tile blue for fashion shop CZB613X
If you love this crackle fish scale pattern, you may like to read: Crackle Finish Mosaic Tile-The Combination of Antique and Modern Style >>
7. Classic Blue Penny Round Bath Wall
Keeping minimalist makes more, the simple bathroom design won't go outdated! The combination of navy blue rectangle tile backsplash, round tile wall, marble round wash basin, and transparent glass bottles on shelves structures a clean look. The blue penny tile features kiln surface effect and 19mm mini size makes the bathroom goes a subtle way. Believe that you will definitely fall in love with it.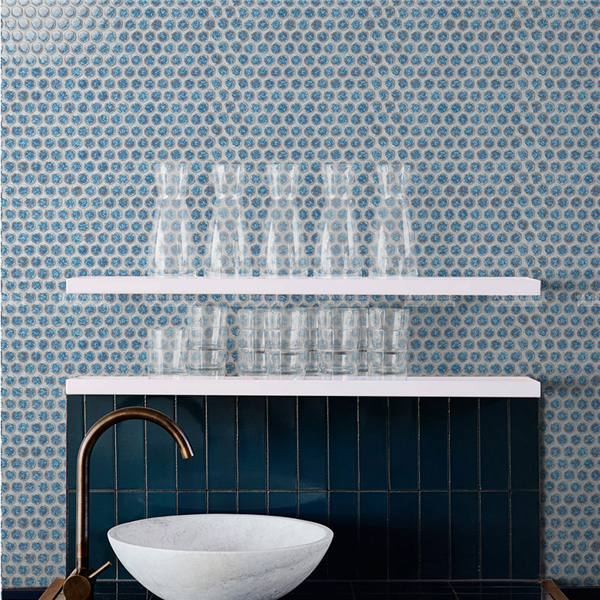 Featured product: 19mm penny round blue mosaic tiles bathroom CZO642A
If you love this little penny pattern, you may like to read: Style Selection: 19mm Blossom Blue Penny Round Tile >>
8. Classic Blue Herringbone Bedroom Wall
Bedroom would be the most private space in your house, so be sure you have decorated it in the way you like. Blue is natural for bedroom decor, our dark blue herringbone tiles install an awesome backdrop for furnishing.
This bedroom below is certain to make you feel peaceful and helps to fall asleep faster. Have some pretty touches such as a vase of flowers in your beside table, and you get the dreamy space and enjoy every wake-up time every day.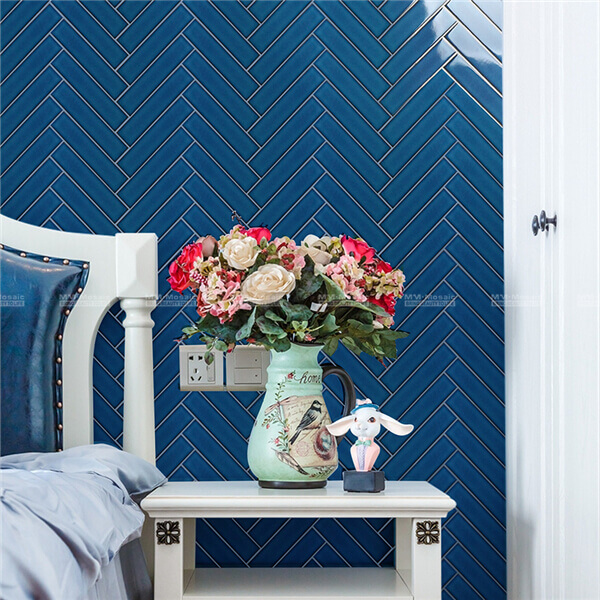 Featured product: herringbone mosaic tiles blue for bedroom wall CZG601B
If you love this herringbone pattern, you may like to read: Style Collection: Royal Blue Crystal Glazed Porcelain Herringbone Tile >>
9. Classic Blue Penny Round Backdrop
A blue living room is sure to relax you and welcome you home, entertain your guests and set them at ease. Our rich blue penny round mosaic tiles on wall and sea blue sofa and pillows complement the comfortable living space below. The blue penny rounds features reflective by the tricks of light and shades, it is refreshing and calm. You would believe that classic blue tone is the best way to go with your living room this year.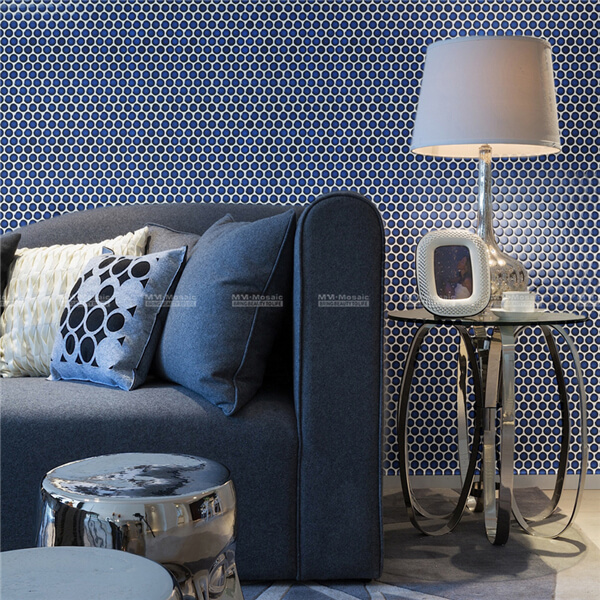 Featured product: blue penny round mosaic for living room wall decor CZO616Y
If you love this little circular pattern, you may like to read: 2018 Newest 10 Penny Round Tile Designs >>
10. Classic Blue Lantern Wall For Hallway
The stand-out blue-white hallway design below is going to make the great first impression on your guest when they step in your house. The blue lantern shape tiling wall provides an artistic backdrop to highlight this place. It is smart to have a white large cabinet and some storage for your hallway, which can effectively cut down on clutter to keep the space neat. A wall mounted coat hanger is a great choice, especially for small home, this helps to keep your entryway organized and save lots of space.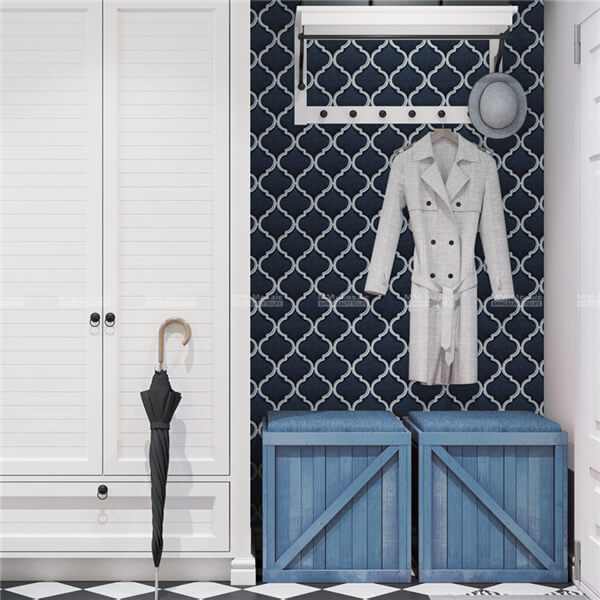 Featured product: crackle lantern tile blue for hallway wall design CZB913X
If you love arabesque pattern, you may like to read: The Hottest Trend For Interior Design-Moroccan Arabesque Tile >>
11. Classic Blue Crackle Square Backsplash
The classic ocean blue square tiling splash back paired with white cabinets creates a Mediterranean style to the kitchen space. These square mosaic tiles with a heavy-crackle finish and deep ocean blue color are great features to make a classic and desired kitchen atmosphere, just the way you will like it. Meanwhile, this blue pattern is also a top pick for swimming pool projects.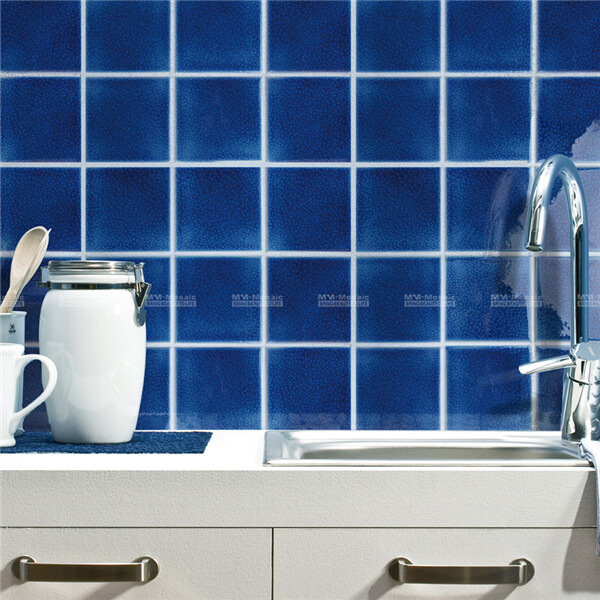 Featured product: crackle square blue porcelain mosaic tiles for splash back CTB607X
If you love this frozen square pattern, you may like to read: 12 Popular Pool Tile Designs For Tiling A Swimming Pool >>
12. Classic Blue Moroccan Flower Flooring
Moroccan tiles always win popularity in interior decoration because of their bold, colorful and special pattern that please to eyes. Look at the shower case below, the blue decorative Moroccan tiles are the fantastic way to spruce up the space, those flower patterns work wonderfully to take the floor to a new chic level and easily enliven your underfoot. These tiles are manufactured to be wear-resistant, non-slip and waterproof, they work better than you might think.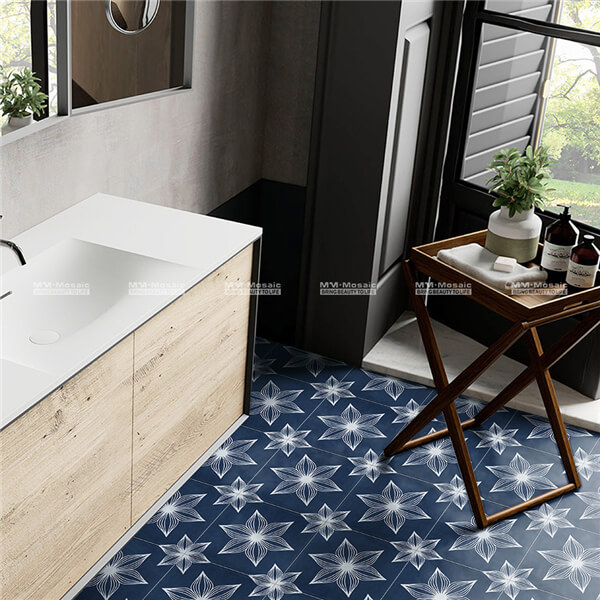 Featured product: Moroccan floor tile blue for shower PRM921CY
If you love this decorative pattern, you may like to read: Style Collection: 200X230MM Ray Pattern Candy Glaze Hexagon Tile >>
The above blue mosaic tiles can adorn your home in different stunning ways, welcome to share your ideas with us and comment below. For more Pantone classic blue tile designs, feel free to contact MM-Mosaic, who is a premium mosaics tile company from China with over 10 years experience in mosaic tile production, here you can find the mosaic design you want!
5 Best-selling classic blue mosaic tiles pattern recommended from MM-Mosaic: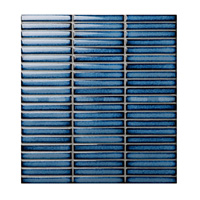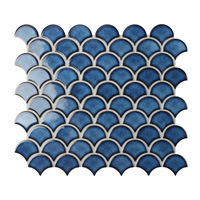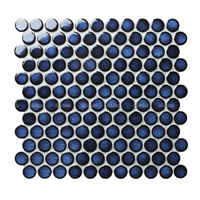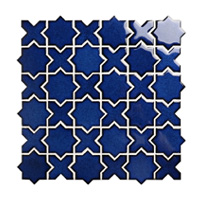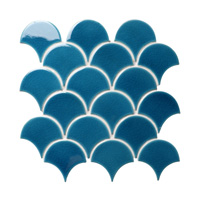 1. CZO649A / 2. ZOB1603 / 3. CZO641A