Dark green is a cozy, calming and centering palette - the tone of rejuvenation. So it's the best choice color for home decorations. Often overlooked, dark green is a somewhat obscure, but often stunning shade for nearly any style home. From penny round to leaf shape, this dark green can provide a moment of calm before you start your busy day or as you come back home after a day.
Besides, dark green is an incredibly refreshing and adaptable tone, perfect for stylish houses or traditional ones. Whether you want to splash a coat of mosaic tile on your accent walls. Like this chic green leaf shape from beautiful ice crackle fish scale. Or you're into a total redecorate your old walls, here's some mosaic interior deisgn inspiration to make you want to go dark green.
Decor With Green Leaves
This amazing space proves that you do not have to settle for just one color of green in your living room accent wall. The dark green leaves pair beautifully with the light green paint and created a textured and smooth surface that's serene and tranquil. When decorating with a minimalist pure white sofa, geometric pattern carpet and look for shades of the same color cushion that complement.
More interior deisgn of leaf shape here: Handmade Leaf Shape Mosaic Tiles Give Big Feature >>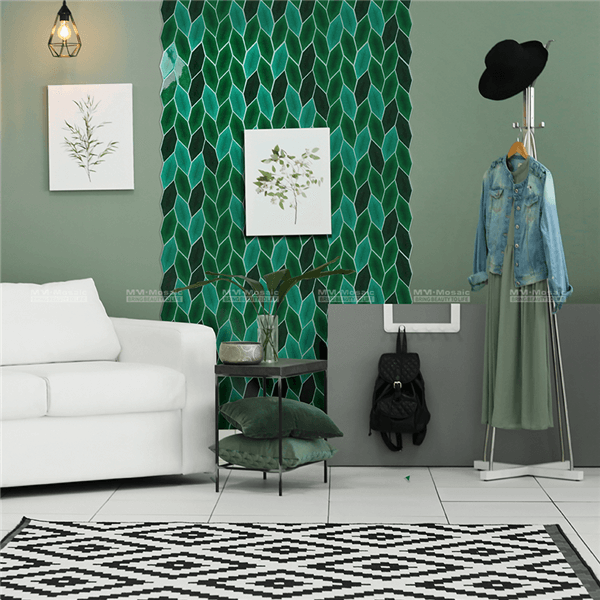 Dark Green Fish
If you think dark green is too stylish for your taste, think again. This trendy space from our client's home proves that the dark green Moroccan style fish scale also can be the eye-catching accent wall. We all love using this comfortable shade to bring in natural vibes and peaceful feelings to the living room. What's more, this dark green hue is also a perfect choice for any open-concept rooms because it performs well in open kitchens as it does in a living room walls.
For more home decor ideas, visit our blog: How To Decor Your Home With 11+ Peel And Stick Mosaic Tiles >>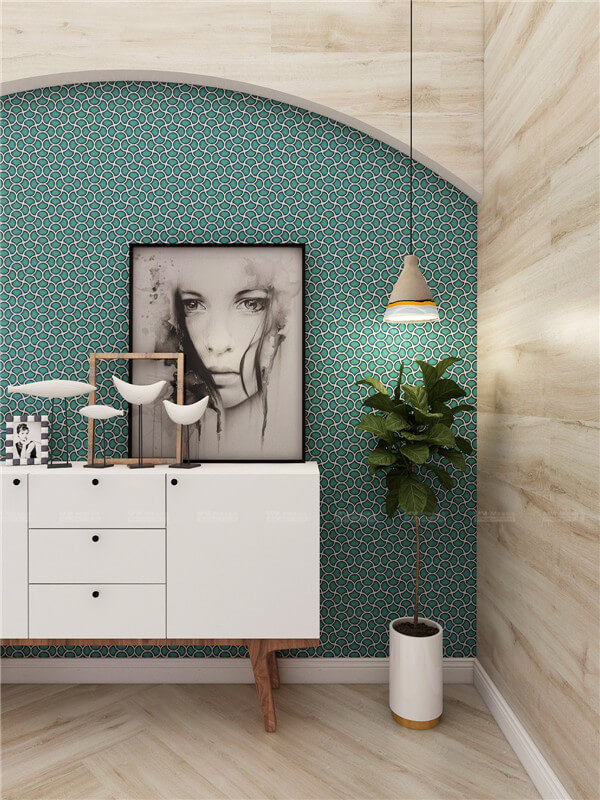 Fresh Back Splash
We love this attractive dark green hue kitchen backsplash. It feels like the wonderful harmony of exquisite and interesting. Depending on the light, this mix green shade will appear more aqua green or dark greenish and will make plenty of depth to a backsplash especially one with enough daylight.
Know more about backsplash inspiration with our blog: Approaching Autumn Touch Kitchen Backsplashes Mosaic >>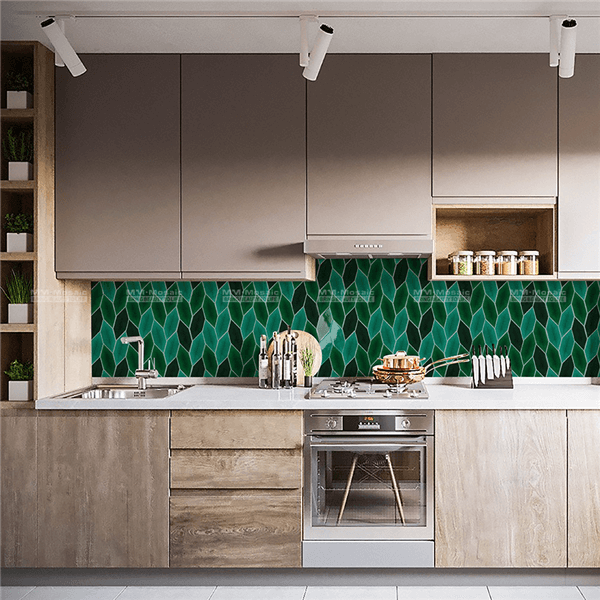 Layering Green in Kitchen
Dark green can be a strong palette. Too much dark hue can easily overwhelm the eyes and take a backsplash in the wrong taste. But because of that, people often overlook how soothing and pleasant a color dark green can be. This shield shape mosaic tiles in dark green hue will fill this space with tone and tranquility.
Here's a kitchen project with this unique shield back splash: Creative Vietnamese Backsplash Inspired By Shield Shape Mosaic >>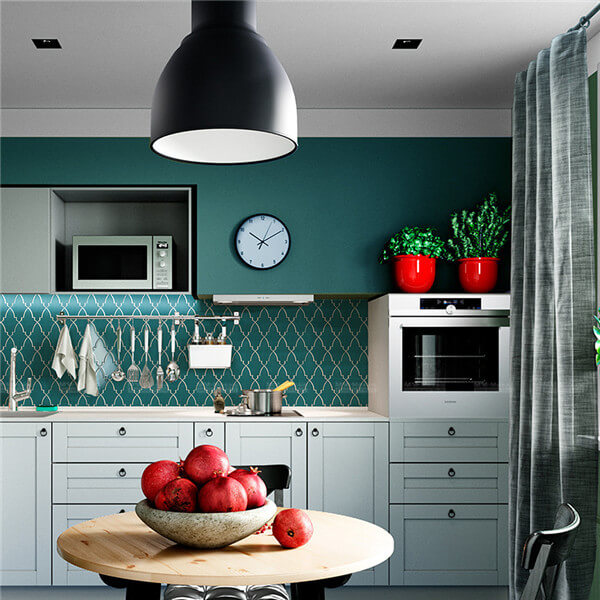 Play With Green Feather
There's no doubt that dark green is attention. Even a dark green can be welcomed when combined with a light color. That's why dark green and wood color have always been such natural tones. This gentle backsplash perfectly how the two hues blend together and dark green will make the space more outstanding.
More creative feather shape accent walls here: How to Utilize the 87X305X9MM Feather Shape Tile >>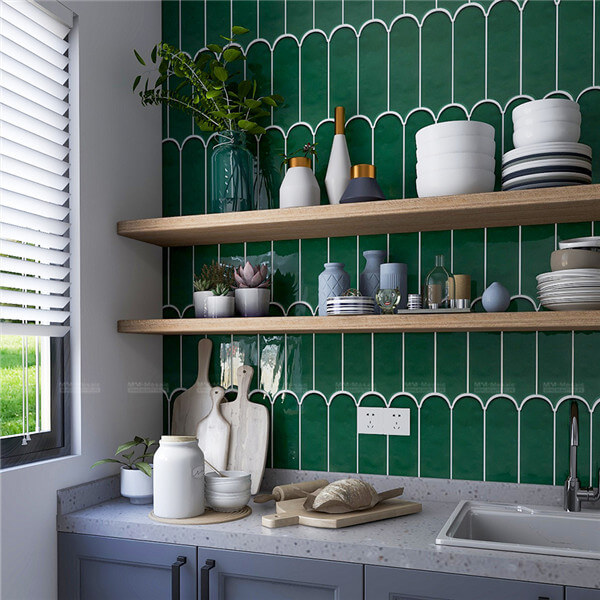 Enliven Bathroom With Green Feathers
Common colors like white and black are overwhelmingly popular when it comes to bathrooms. However, if you're looking to truly enliven your bathing space, why not consider a vibrant hue of dark green. Just like this chic feathers, which can transform your bathroom into a thoroughly trendy bathing space that is popular.
Plenty of trendy bathroom ideas with our blog: Why This 14 Outdoor Shower Ideas Will Change Your Life >>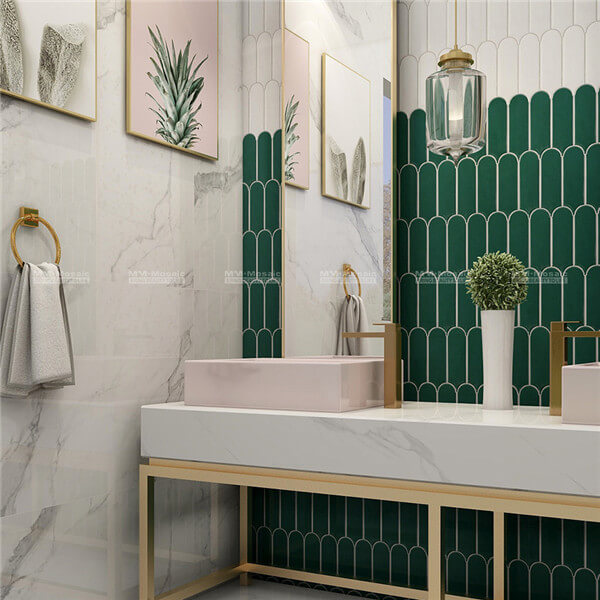 Obsess With Dark Green
This stands out and modern bathroom reflects the vibrant home members who use it every day. With smooth touch feeling and charming kiln finish, it's an unexpected jolt of tone that energizes the bathing space while throwing focus to the unique wall decor.
Know about shower wall design, visit our blog: Decorating Bathroom With Trendy Finish Porcelain Mosaic Tiles >>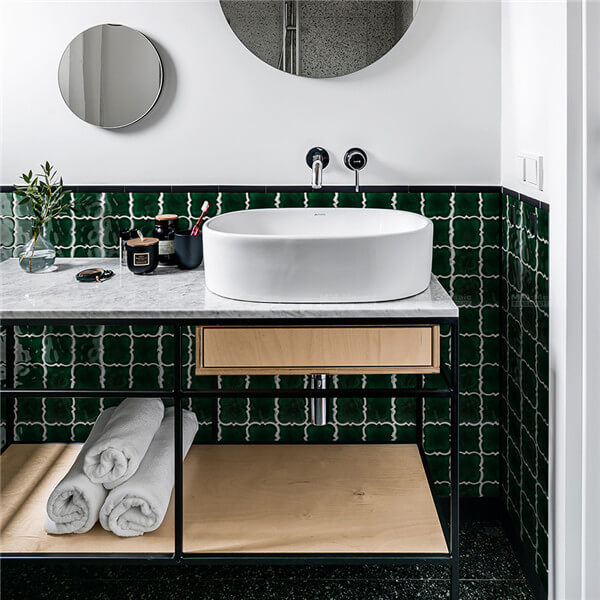 Strip In Rustic Dark Green
As we all know that dark green is a fantastic color for showers because it acts like a neutral. That means many wall materials and tones can easily pair with it depending on the hue of dark green you pick. Just keep in mind that a soft palette of dark green will instantly energize a shower.
Love this rustic palette? Maybe this blog will tell you more: Turquoise Green Finger Stackbone Strip Tile >>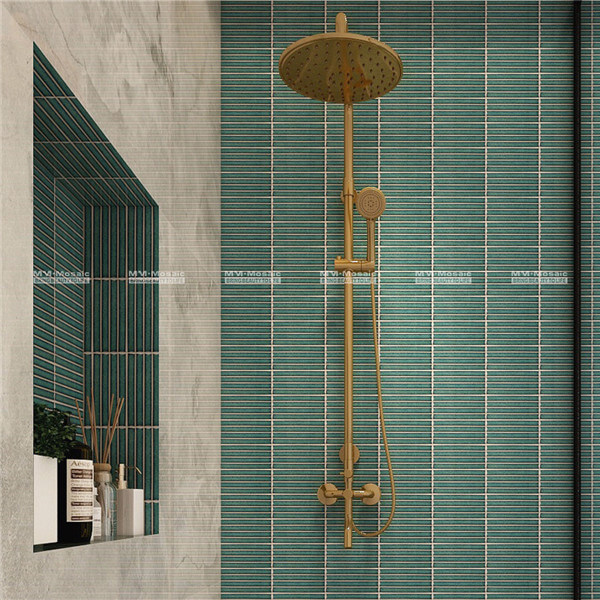 Bold Combinations of Dark Green
This unique look bathroom takes an arty-crafty approach to natural hues. Rather than blending dark greens and browns throughout all space, the bathroom is divided evenly between dark green and dark brown hues. A prickly pear decor brings you into the Mediterranean or natural forest.
Here's a bathroom project might inspire you: How Mosaic Goes From Bathroom To Bar Counter >>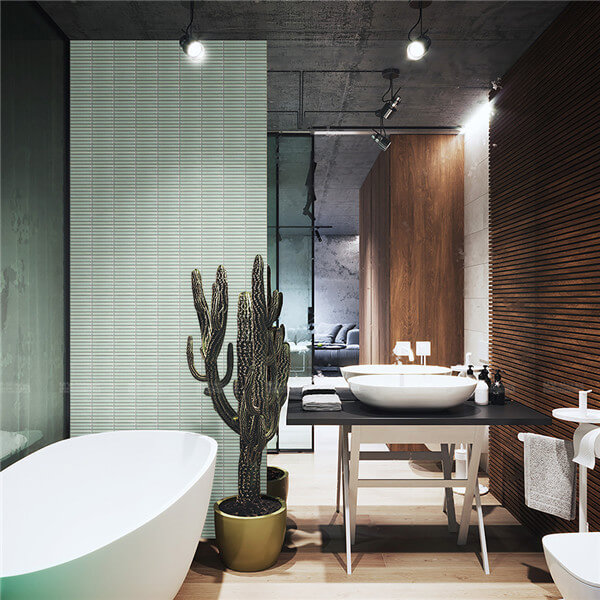 Dark Green Shower Area Inspired By Nature
This stunning shower space reflects the house's property, a piece of land with mysterious garden areas. The vibrant dark green shower wall and greenery decor complement the whole atmosphere setting while adding to the sense of being surround by natural vibes.
Want to know more about real bathroom remodel with our blog: A Nordic Style Bathroom Remodeling Project Using Our Blue Penny Round Tile >>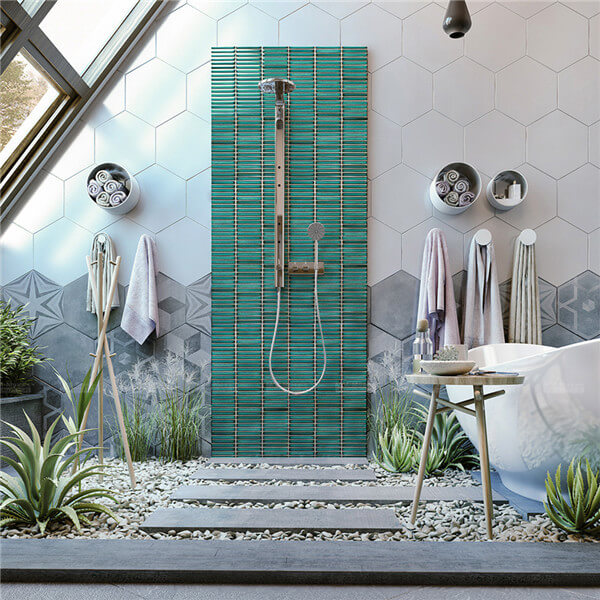 When Dark Green Mix White
Everyone can't fail when you pair any color with white, but dark green is especially refreshing and tranquil. Comfortable walls provide a peaceful backdrop to all the white, and the elegant pure white bathtub adds just enough contrast. Funny geometric pattern floor creates another jolt of interest.
If you're color lovers, maybe class blue also appeals to you: 11+ Mosaic Tiles To Bring Pantone's Classic Blue Into Your Space >>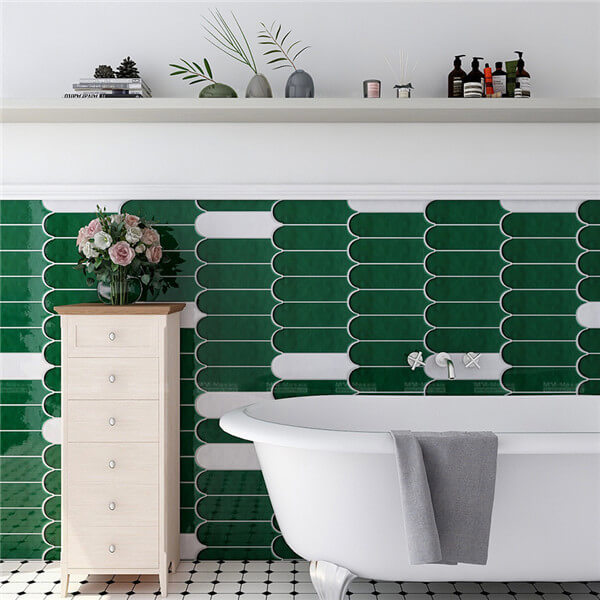 Deep Green and Diamond
If you want to create a special space in your home, this little mosaic table is a perfect inspiration. The kiln frame finish, unique diamond shape, and glazed touching will make your feel incredibly tidy and vibrant, especially when combined with the chic gold metal tableware.
How to use this chic diamond shape in your home? This blog will help you: 5+ ways to utilize crystal glazed diamond mosaic tiles >>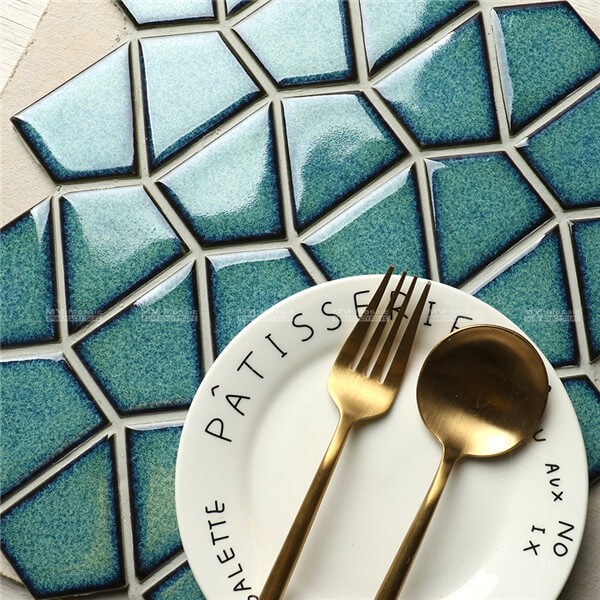 Dark Green In The Floor
The floor is the first thing you see when you come to dining room areas and the last thing you see when you leave this space. That makes it one of the wonderful places in the house to fill with cozy dark green color. The vivid palette that fills the dining room is sure to make anyone relaxing while having meals.
By the way, designing a attractive entryway floor will enhance your taste, like these spaces: Why Penny Round Mosaic Can Keep Your Entryway Fantastic >>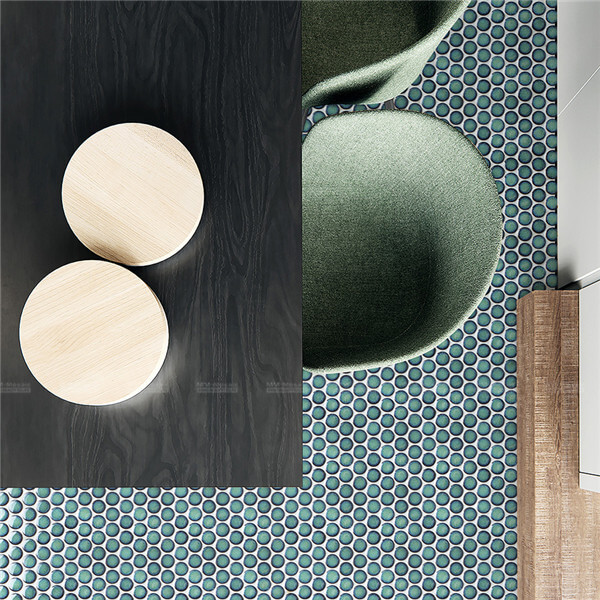 Back To Rustic
Dark Green has had its share of turns at the top of the pop palette wheel. If you're looking to bring a bit of throwback design into your book room, utilizing the colors that were big at the time can never out of style, which makes your space look more perfect. In this room, the color combination of dark green leaves and natural wood hues, together with the style of desk has given this book room sense of the ages.
Looking for more creative projects, visit our blog: Voguish Mosaic Designs Inspired By Vietnam Store >>
Star Cross With Dark Green
Dark green is a great conspicuity tone, a fact that provides a wide array of opportunities for being creative in any space, for example, a commercial restaurant. The vibrant dark green at the top of the walls and unique star-cross shape enhance the style of this accent wall. By the way, solid wood tables and chairs bring natural environments.
More commercial projects, browse our blog: How Moroccan Fish Scale Plays With 6 Commercial Space >>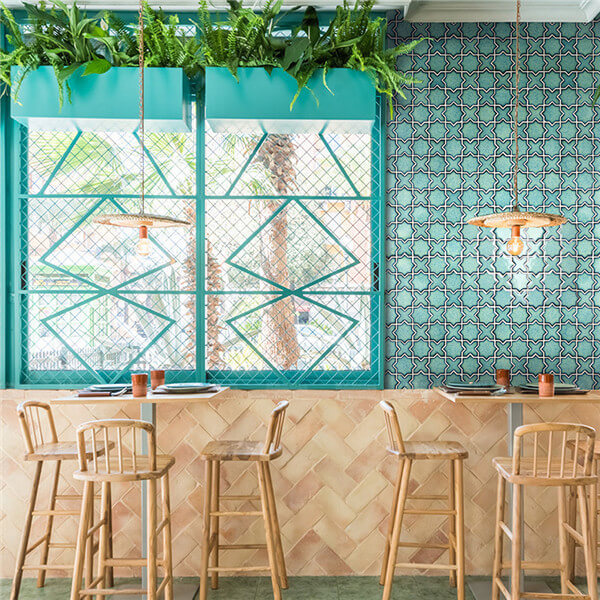 Tranquil Dark Green Walls
Dark green is always thought of in its stronger, darker hues. However, it also a wonderful choice for larger color statements such as laying the walls. This is because in its slight variations dark green evokes less of the tranquil and peaceful feeling. In this commercial shop, this accent feature wall will catch your guests' eyes for the first time.
Stunning shop renovation project might suit you: Pink Palette Finger Stackbond Mosaic Makes Dreamy Wedding Dress Shop >>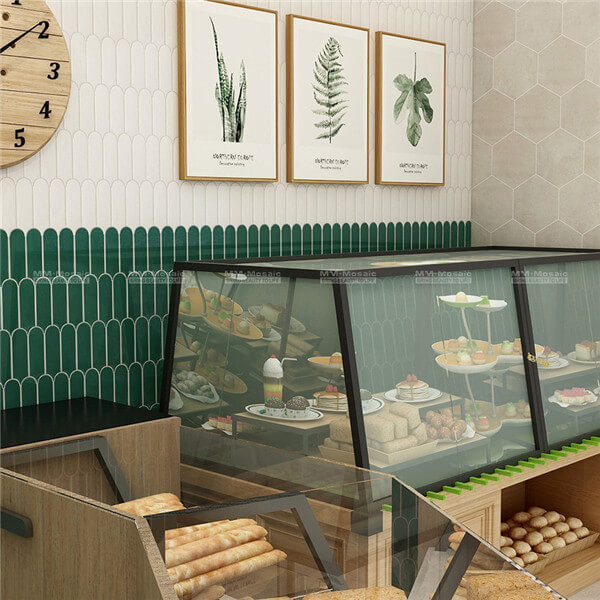 Get Inspired?
Having any interior design ideas with dark green tones? Are you interested in any chic mosaic tiles? Order tile samples to feel and touch in person now! MM-Mosaic will so glad to hear your further home improvement plan and share the latest design news with you!