While we are at home for a long time, we will focus more on our home decoration. Therefore, decorating a space in your home that inspires and relaxes the family members has never been more significant. Here at MM-Mosaic, we encourage our customers to show their own personality and characteristic through our beautiful glazed tile. This marriage of glaze tile and the particular idea is a pleasant way to create an urban retreat in your house. Focus on our new things at 2021, the Tunnel Series, they will make your home different from others!
1 Colorful Idea
What we love most about this colorful Tunnel Series is that anyone can create their unique style by using an alternate glaze color palette. Combined with our exclusive design tunnel shape, this tile makes a beautiful statement for any interior space.
For more color palette of chic tiles here: 5+ Oval Shape Porcelain Tile Ideas >>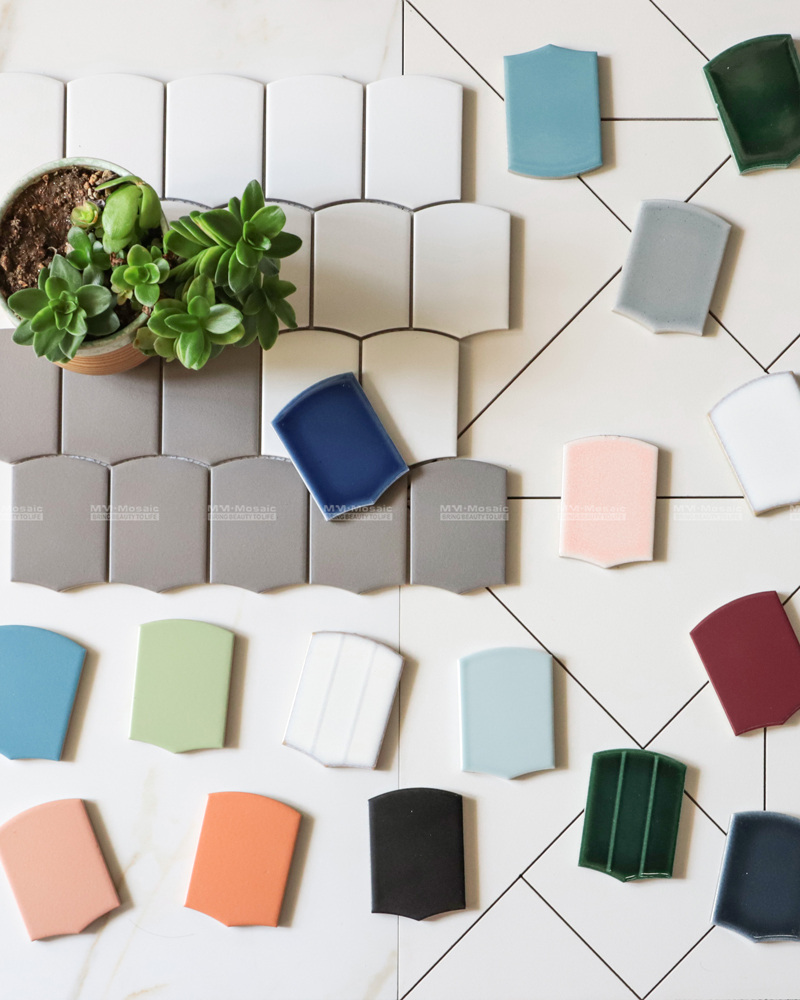 2 Black & White
One of the best ways to experiment with black & white color is on the mosaic tile finish. The tile surface thrives when these classic colors are introduced into the design. This is an effective and clever design, so choose a unique tile shape to show this classic palette perfectly. The black and white hue is the perfect choice for interior space with being overwhelming.
For more tile color ideas, visit our blog: Ice Crackle Pattern And Bamboo Style Subway Tile Mix Abundant Colors >>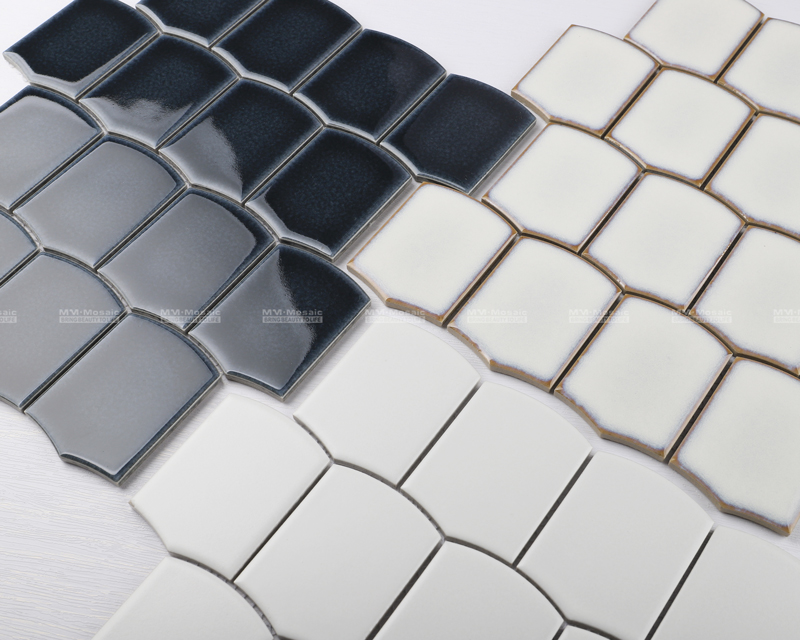 3 Kiln Surface
One of the easiest ways to bring some of the color variations to your walls is to fill them with kiln surface wall tiles, and there is no perfect way that with our kiln surface white tunnels. The subtle variation of this glaze on our new things adds an incredible amount of depth that makes it an immediate welcome.
To feel a more charming kiln surface, visit our blog: 6+ Diamond Shape Glazed Wall Tile Designs >>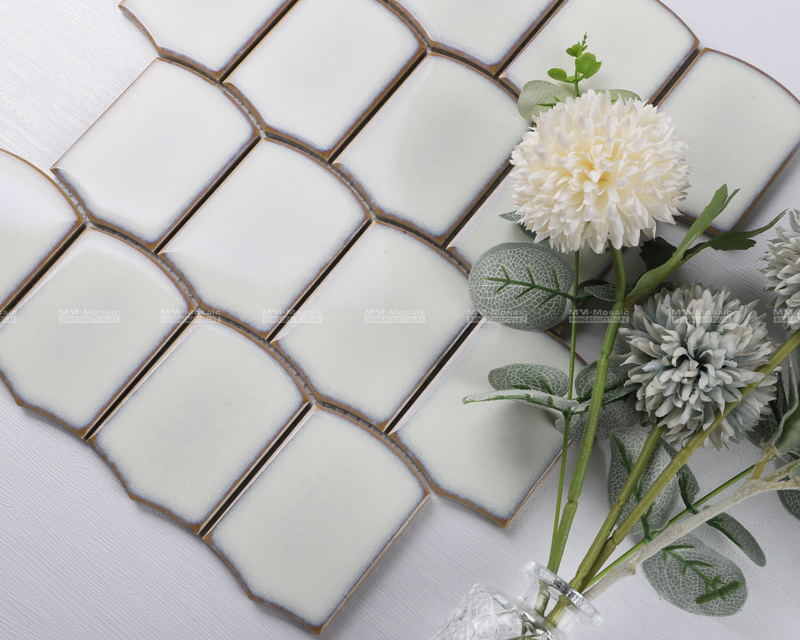 Featured Product: Irregular Tunnel ZOB1206, Kiln White
4 Matte Finish
Going simple and understated with your matte finish tunnels is a wonderful way to offer a delicate backdrop to your interior space while enhancing the whole interior design. This all-matte-white layout adds a subtle visual aesthetic feeling to any space without being overwhelming. Whether tiling your bathroom, shower, kitchen backsplash, or entryway, considering using this fun and exquisite shape to create a dreamland in which to urban retreat.
Know more about matte finish ideas with our blog: Three Styles Ray Pattern Candy Glaze Hexagons >>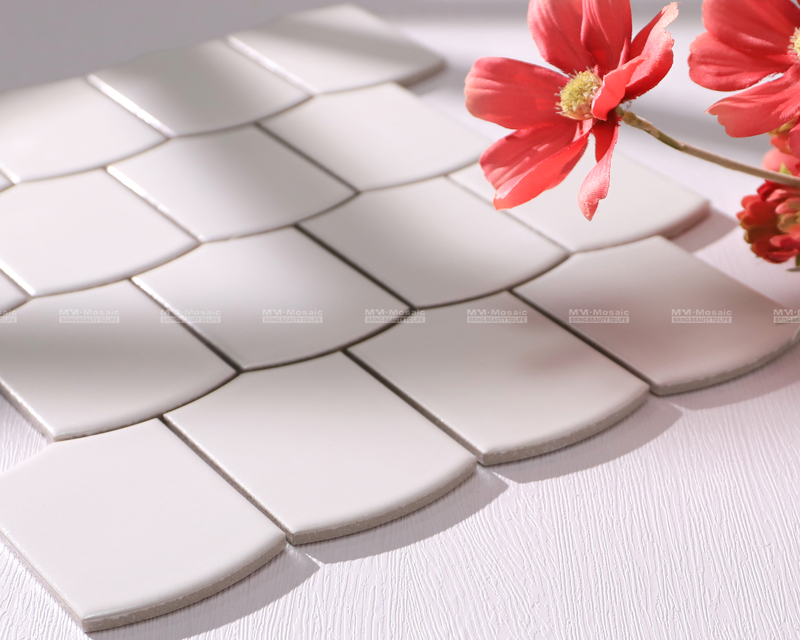 Featured Product: Irregular Tunnel ZMB1201, Matte White
5 Decor Wall
Playing it safe while you choosing your tile color scheme can be a wise way to ensure the resale of your house goes off without a hitch. But, if you are going to stay for a while, there's no reason not to show your own style and have some fun with your favorite color. Just like that, choosing a plain and simple white color with a matte finish might be another way to safely bring color to your walls. This pale white glaze has a rustic quality that keeps it from being too high-sounding. And, again, the subtle variation brings a soft visual effect that adds character.
Head over to our blog to see more wall design: Top 10 Residential Interior Projects >>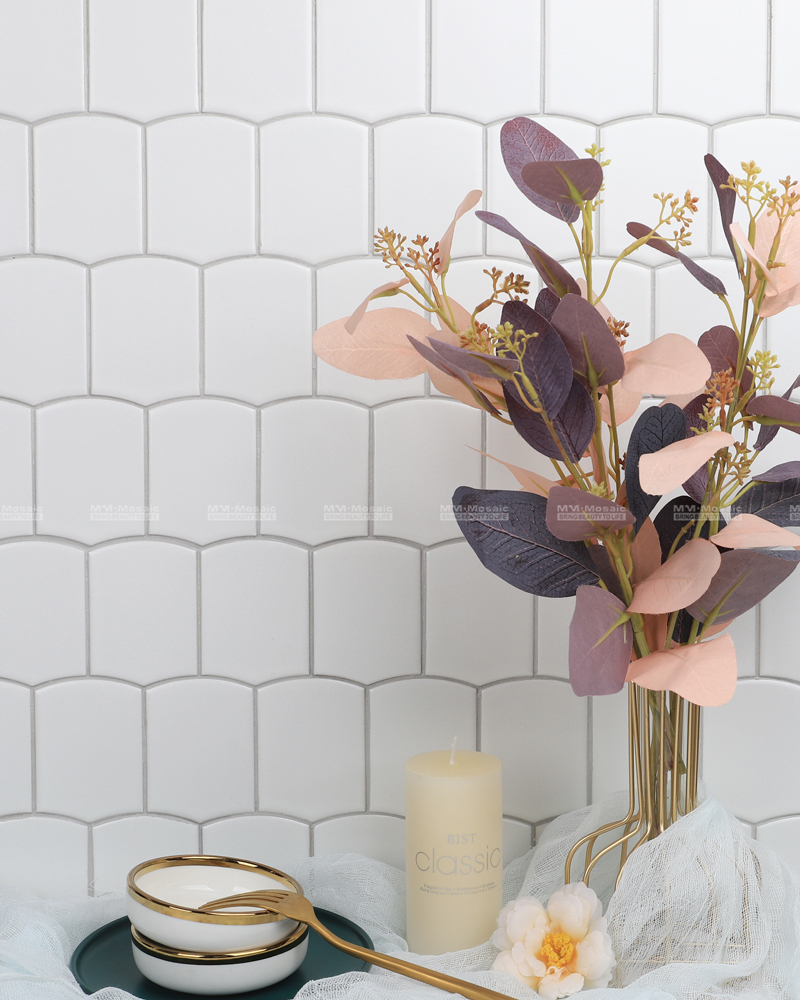 6 Simple Backsplash
Tunnels are the interesting shape that totally makes it a fully versatile tile. If your aim is to change your kitchen backsplash into a Scandinavian dream space, look no further than these simple matte white Tunnels in a horizontal pattern. While using all one glaze tone, try to get creative with the shape design and glamour of the tile.
For more white tone kitchen backsplash projects, browse our blog: 10 Projects That Show Monochromatic White Stand Out >>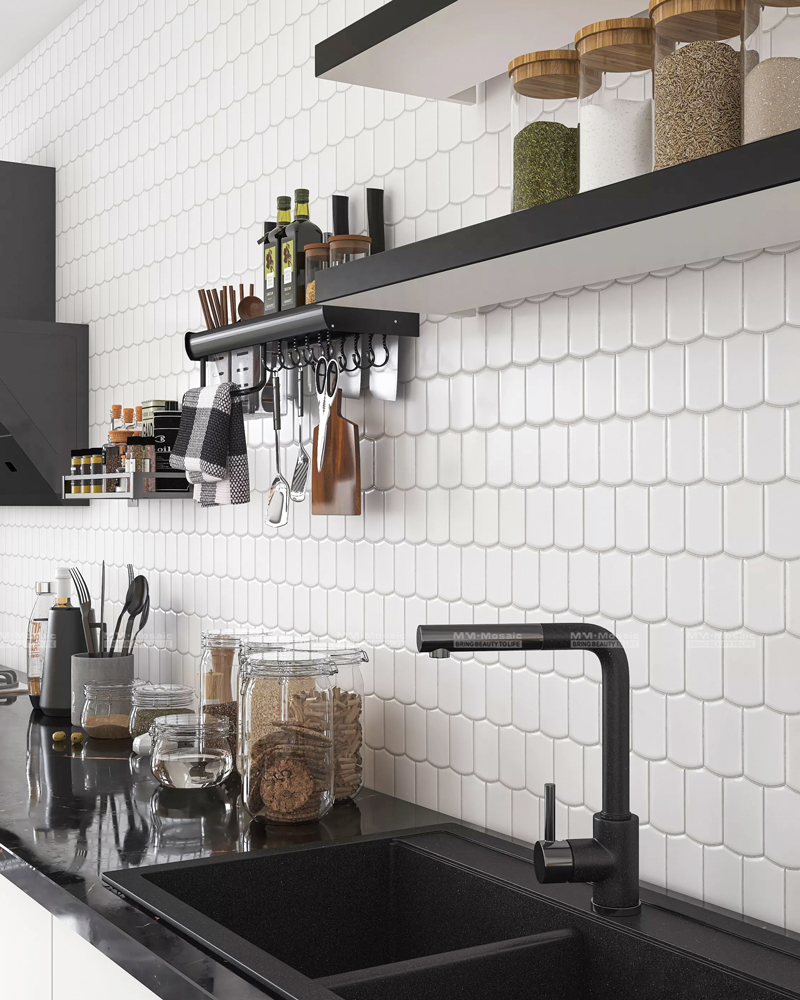 7 Plain Bathroom Wall
Though we might live in a fast-paced world, we only prefer to advise you to remodel the bathroom once. If you take the time to do it correctly the first time, you will only have to do it once. Live with the favorite tile. Look at them in different sunlight or light of day. Get all the colors of tile samples if you need them. We think that it's great to spend a bit of time to determine the right tone before your bathroom remodel project.
Know more about bathroom design, visit our project: Get Point - How to Realize This 13 Small Bathroom Inspirations >>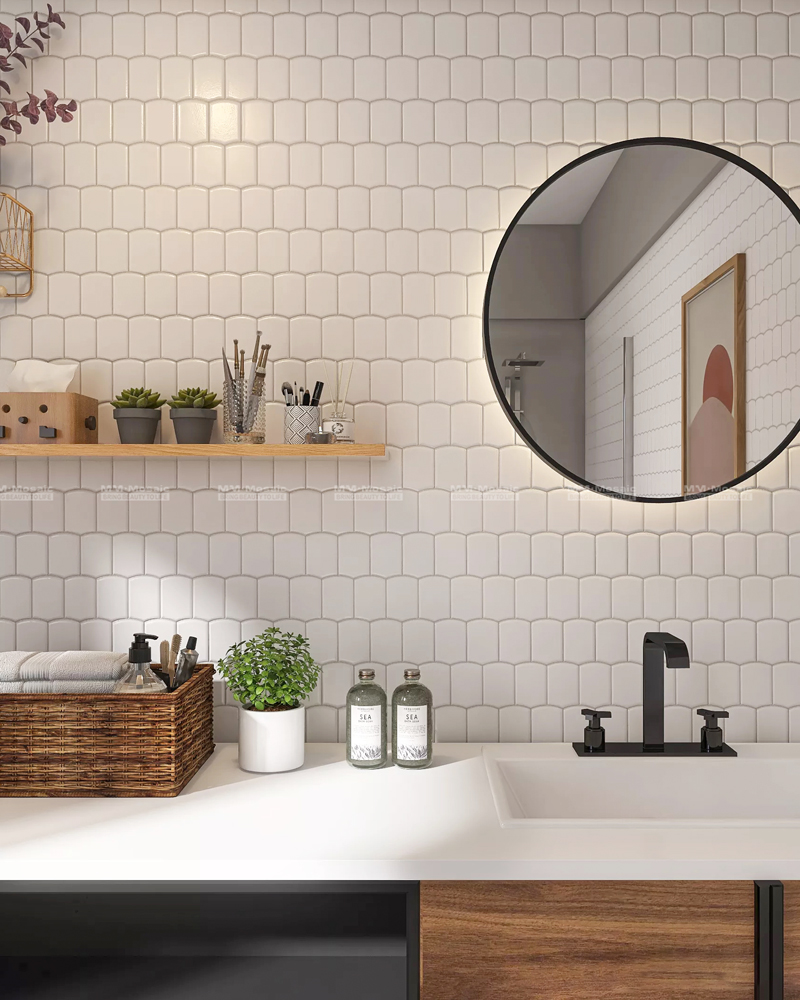 8 Glamour of Black
When you have no idea what to wear, you might choose your fascinating little black dress, is it right? We choose wall tile should be the same, and this glaze is one of our favorite first choices when someone wants to make a statement without being too colorful or bright tone. Rather than being boring, we think this is the ideal feature wall for a space filled with bright pops of hue decor. Don't forget to add some greenery to improve the style of your walls.
For more wall design ideas, visit our blog: 7+ Festival Interior Projects For The Coming Holiday >>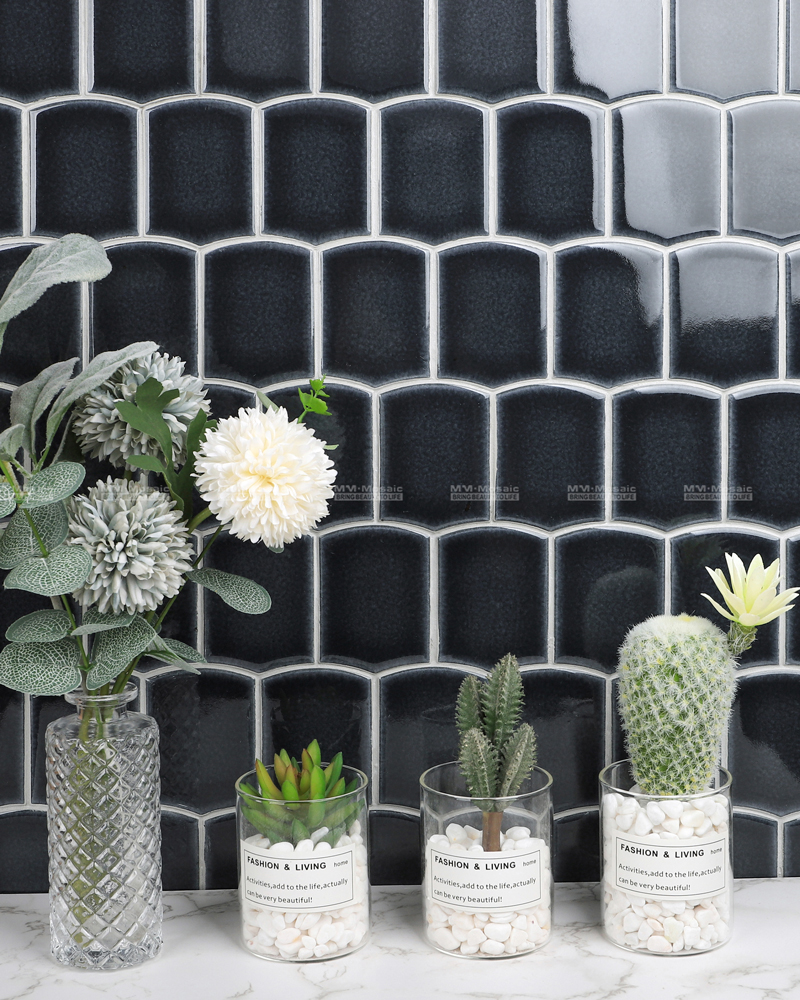 Featured Product: Irregular Tunnel ZGB1301, Kiln Black
9 Chic Bathroom Inspo
A bathroom design doesn't need to be extravagant to look perfect. This minimalist, contemporary bathroom makes the best out of the least amount of decoration possible, with a warm light rectangle mirror, a black metal ladder for the towels, a large white bathtub, and the neutral-toned marble pattern porcelain tile. The black tunnel wall tiles add the bare-bones style.
For more trendy wall design, visit our project: How Green Glaze Plays in Cafe Shop and Rest Room >>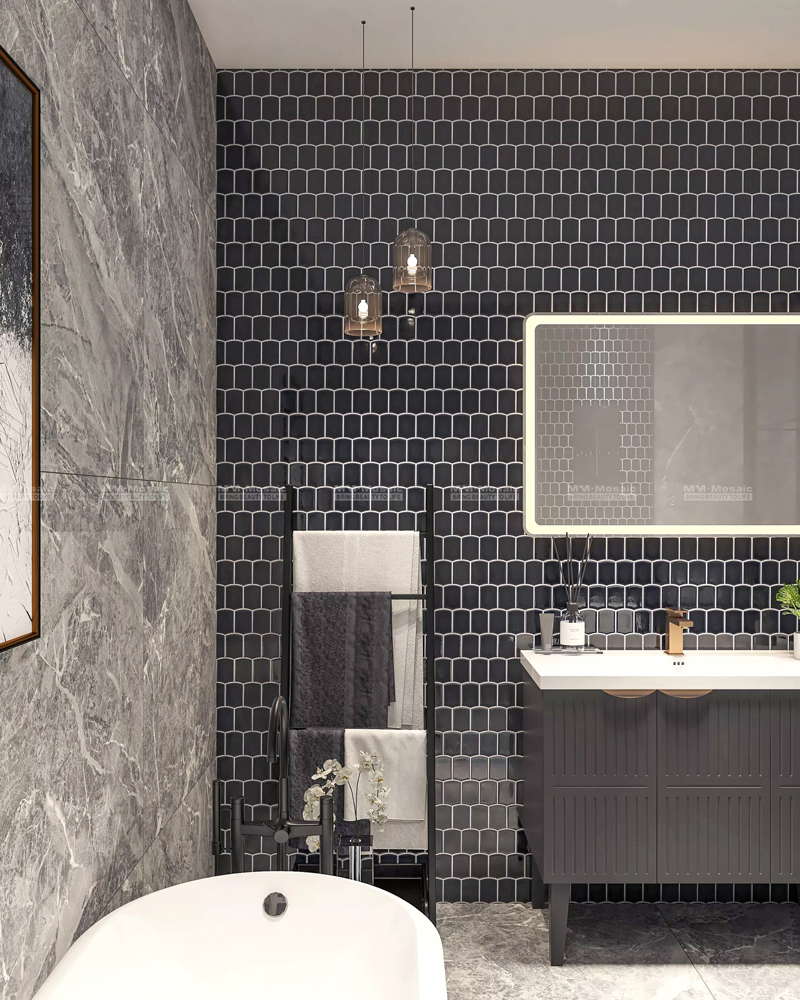 10 Elegant Entryway
Tiling this entryway accent wall with black tunnels really makes this space stand out from the rest. With plenty of marble pattern elements to go around, the feature wall adds welcome contrast. By the way, when you want your beloved tile to be the star of the show, contrasting your dark wall tile with a bright white grout is the best way to go. We all love making a statement with wall tile so the more we can make it popular, the better. For this idea, we recommend letting your wall tile be the focus in your entryway design so it's not too distracting to the eye. Ideal for an entryway feature wall, this design trend will leave your guests with tile envy.
For more new wall tile ideas, visit our blog: Premium Glazed 3D Mini Stars Decor Your Home >>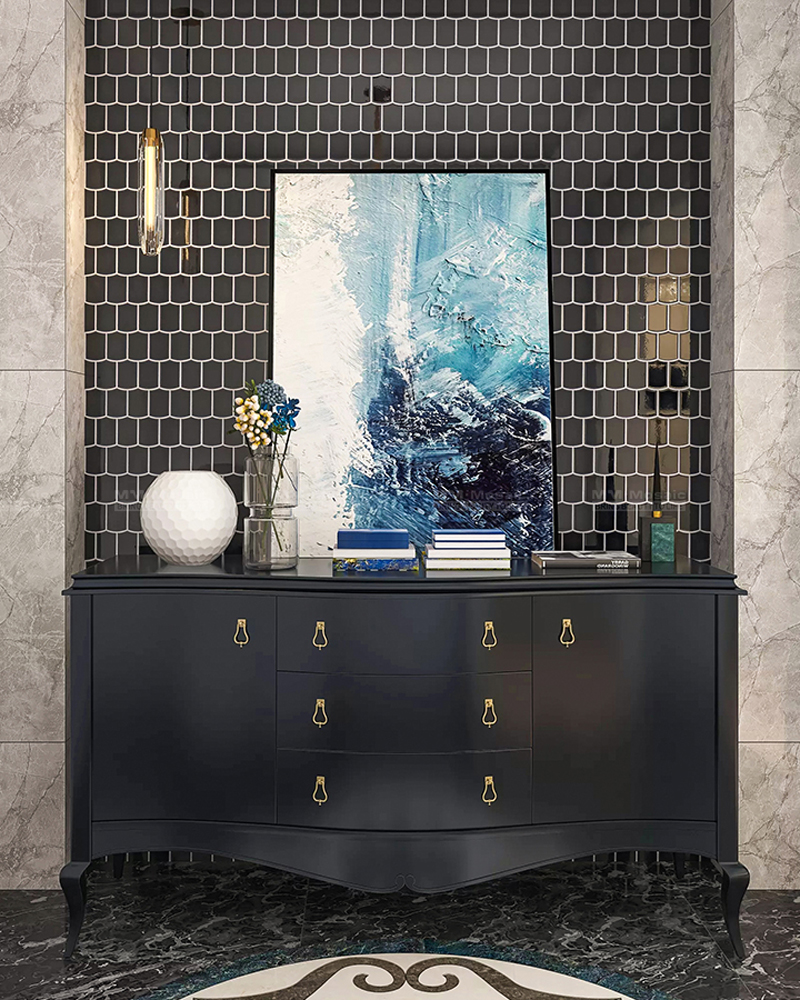 Get Inspired?
Inspired by our new things Tunnel Series? Which color do you like? Why not tell us and ask for tile samples to see, touch, and feel in person? We believe that you must fall in love with our Tunnels while you touch their surface. MM-Mosaic will keep on designing chic tiles and share more interior space projects in the new year!