We always advise our clients to express their own style and characteristic through our beautiful mosaic tiles. This marriage of unique shape tile and customized inspiration is an encouraging way to create a modern and cozy space in your house. Today, we will combine our chic glazes with the creative trapezoid shape to bring some surprises. From simple white color to sweet pink tone, and from glazed glossy surface to matte surface look ahead to see some of our favorite tile designs and interior spaces that will hopefully inspire your home remodel project.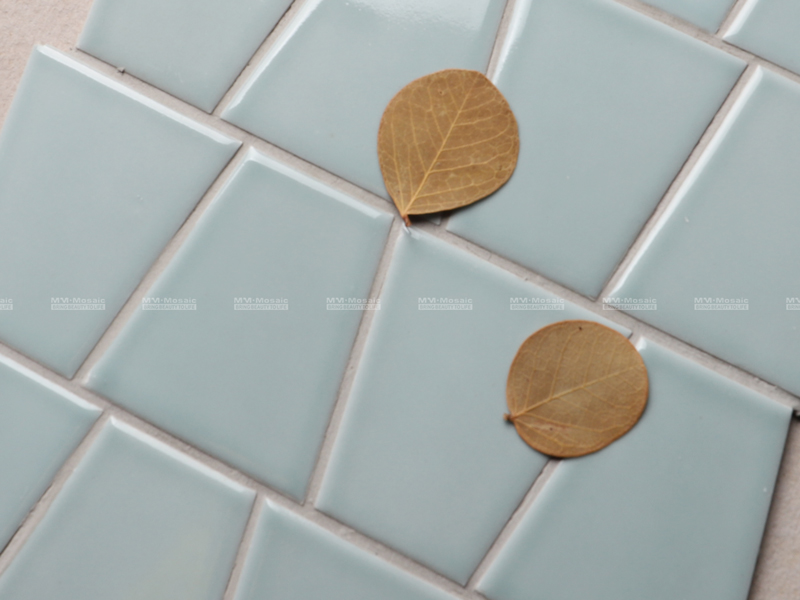 1 Trapezoid
Our premium glazed trapezoid sheets are the perfect home wall option for any interior space. You can customize the tile color scheme and make them your own. According to what style your space is, you can choose simple pure white or bold black color, as you like. Made from porcelain, they are all durable and easy to clean. Read on knowing more interior designs with trapezoids right now!
For more new things with our blog: 15+ Tunnel Series Tiles Make Your Space Pop >>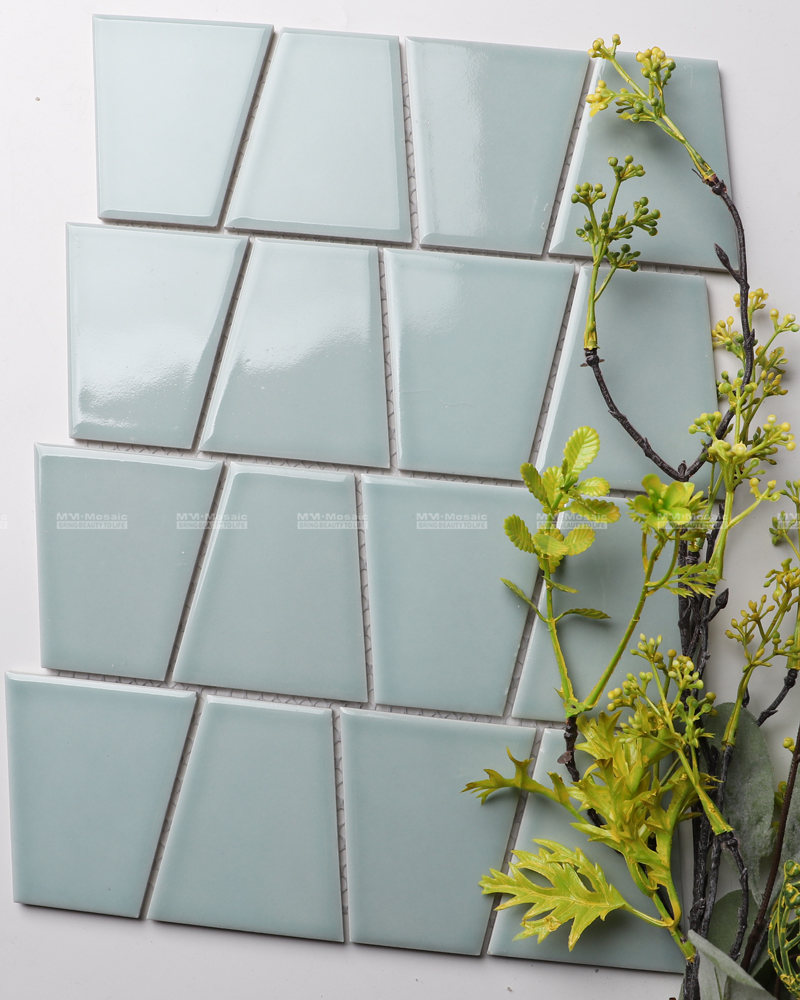 Featured Product: Premium Glazed Trapezoid Porcelain Mosaic, Glossy Pale Blue, ZGB1602
2 Refreshing Walls
Thinking about going a refreshing and eye-pleasing color with your walls? Look no further than these light blue trapezoids. What could be more inviting than using a welcomed and bright wall tile design to guide your friends into your house?
For more refreshing wall design here: 16+ Dark Green Palette Refreshes Your Space >>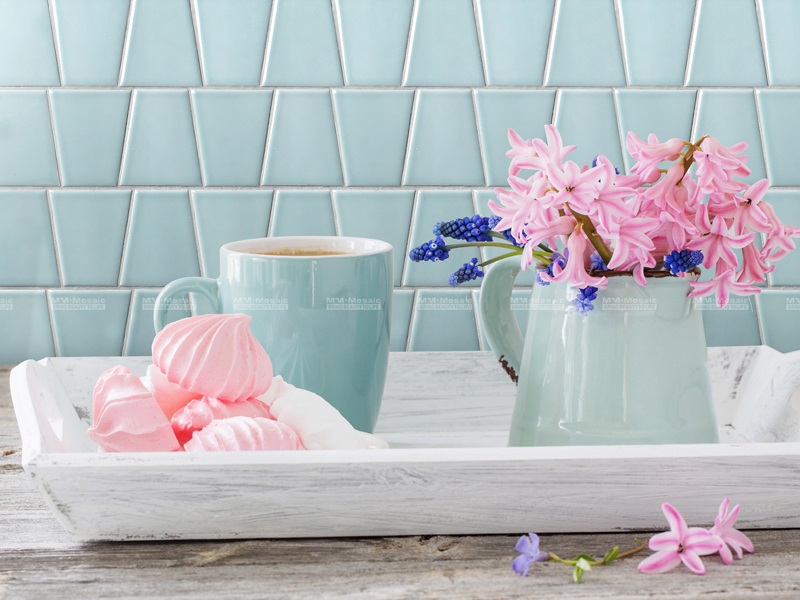 3 Breezy Backsplash
This clean and tidy kitchen backsplash is as contemporary as it gets. These pure bright glaze blue trapezoids give off a breezy and modern ambient while providing a practical use for this kitchen wall. Easy to clean and neat our new thing is the ideal choice for your backsplash.
For more kitchen tile ideas with our blog: White Stacked Subway Tile For Kitchen Backsplash >>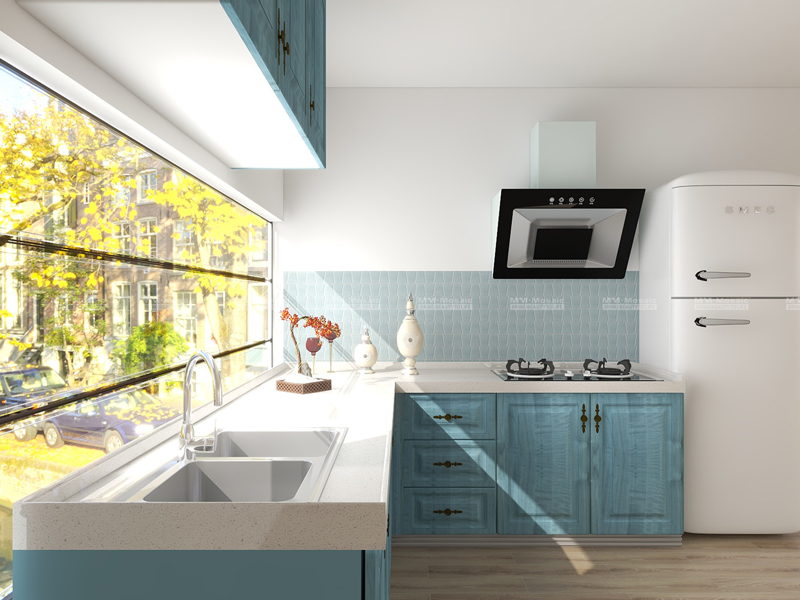 4 Make a Statement In Bathroom
Who says you must use the same color for your bathroom walls? Light blue plays well in this bathroom wall. These sky tone trapezoids combine wonderfully with the large Hexagons, which are the perfect decor for this bathroom. Going with a personal design for your wall is a great way to make a statement and keep it looking chic without going over the top.
Want more bathroom design inspo? Check out our blog: Top 10 Residential Interior Projects of 2020 >>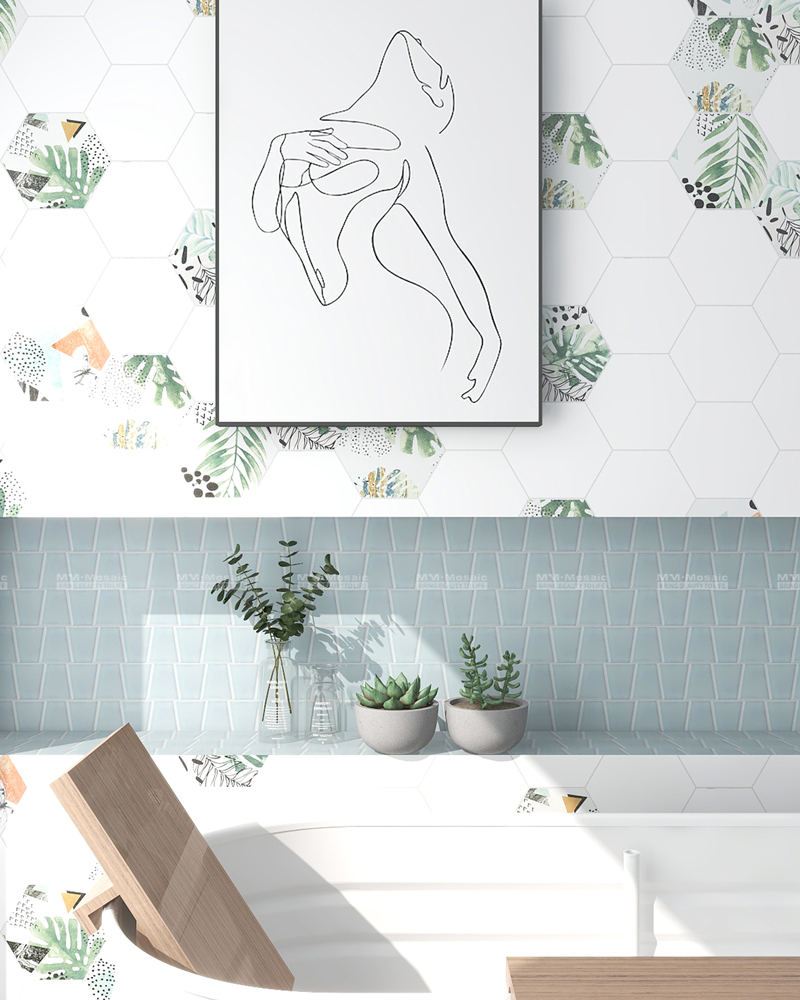 5 Add Blues
Some interior designers are loving the movement towards creative tile shapes and these fun trapezoids are just too interesting! Aside from being interesting, they are also benefiting in making the laundry room appear brighter and larger. It plays as a visual illusion that the more wall tiles your eye sees the more finish area it attributes to the walls. Just like that:
For more blue tones design with our blog: 11+ Mosaic Tiles To Bring Pantone's Classic Blue Into Your Space >>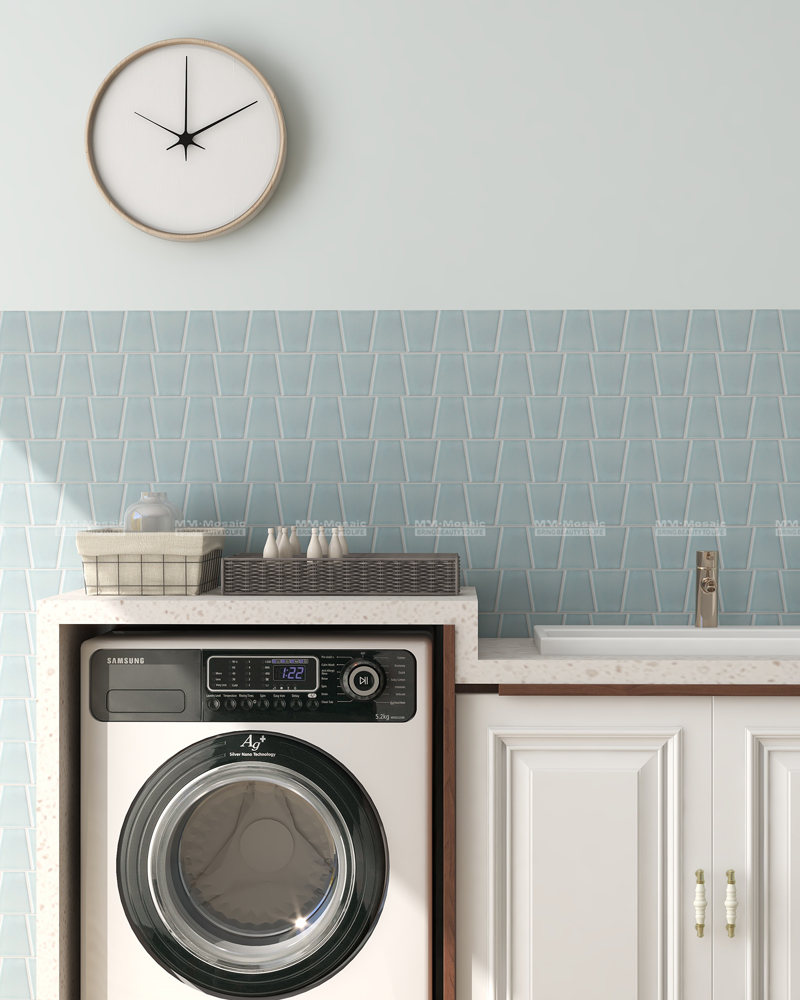 6 More Natural Vibes
If you're looking for something natural and inviting, this pleasing blue trapezoid design is a perfect alternative to the entryway feature wall. Our sky blue glaze has natural vibes color variations that make you feel like you're in the suburbs. Imagine this in your entryway wall or bedroom for a perfectly inviting design.
Get more interior design ideas with our blog: 7+ Festival Interior Projects For The Coming Holiday >>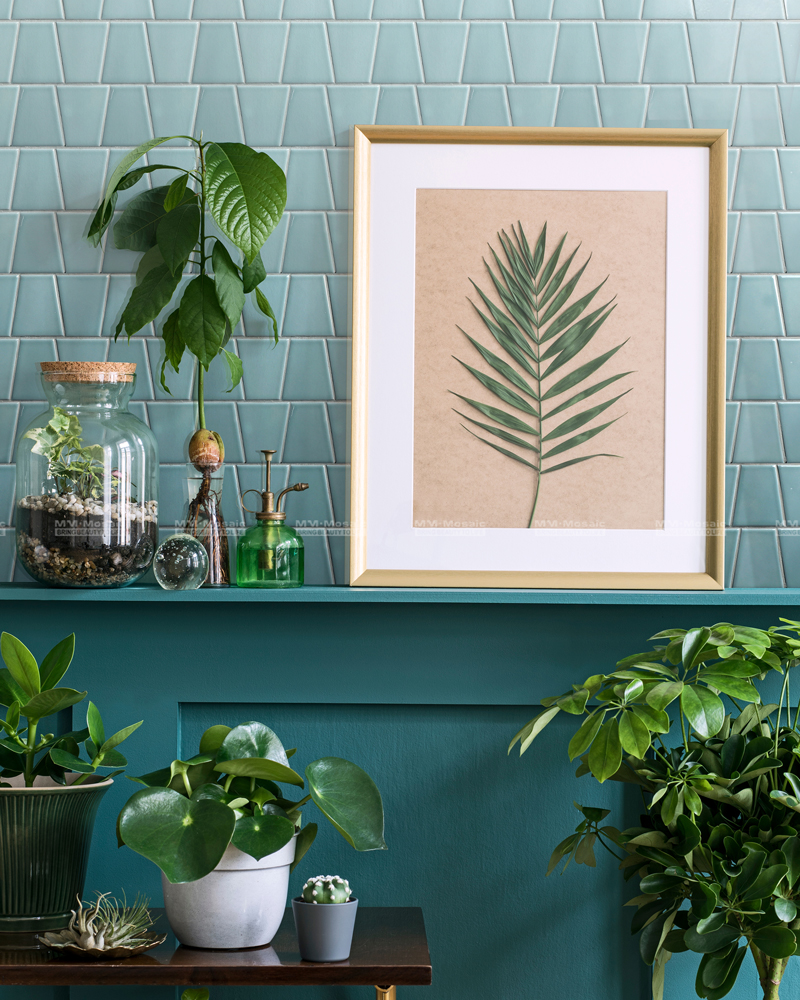 7 Tranquil Bedroom Walls
These natural blue trapezoids in this bedroom wall are a breath of fresh sky air and can you believe all of those wall tiles are the glazed glossy surface? This appealing design is a personal favorite because it shows how new trapezoids can show off all the natural vibes and beautiful glaze finish in our new thing series. This wall makes for the ideal lake bedroom with its fresh and clean yet trendy tone.
Get more interior designs with new tiles here: Decor Your Home With 3 Styles Peel and Stick PVC Panel >>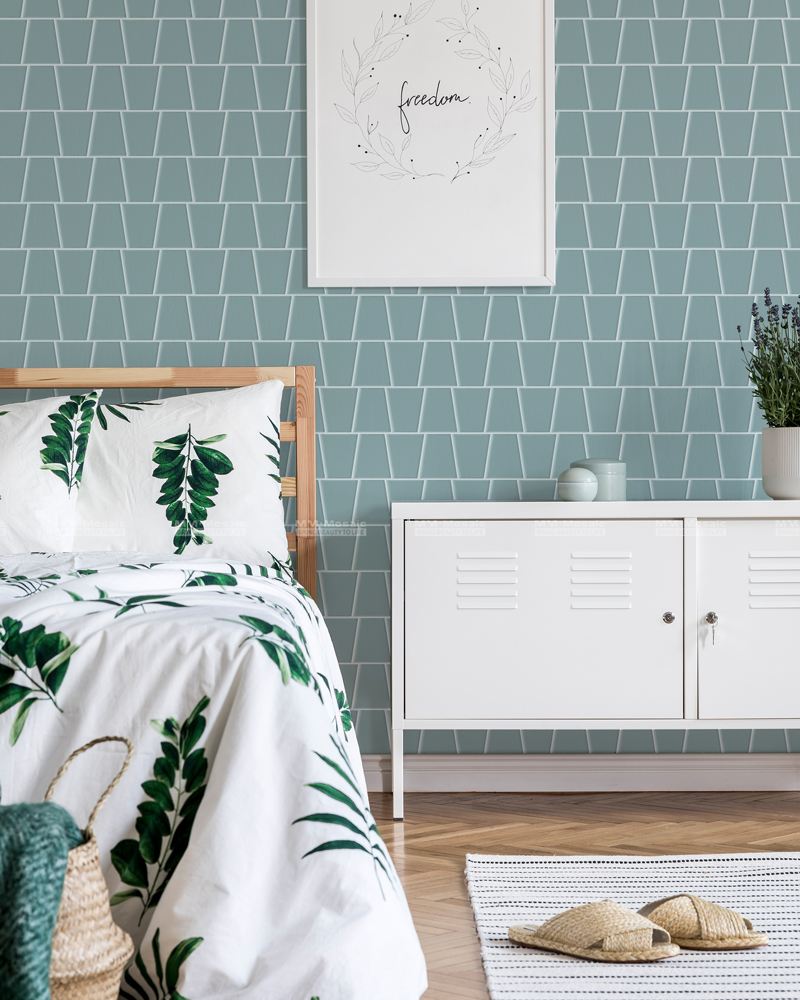 8 Fambe Pinks
Although this also a trapezoid shape, there's so much to admire about the details. From the kiln glaze finish to the sweet pink tone, these pink trapezoid is a cute decor for your dreamy space. Why not tiling them in your kitchen backsplash, shower, or party room?
For more kiln glazed wall tile, visit our blog: Premium Glazed 3D Mini Star Plays Well >>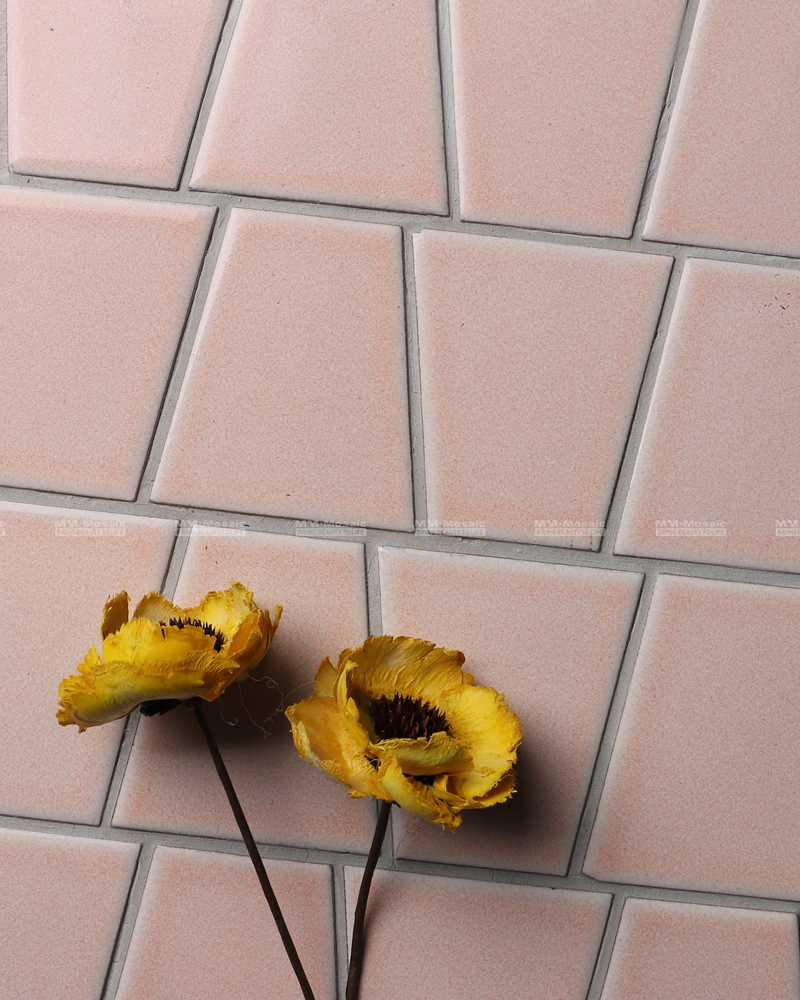 Featured Product: Premium Glazed Trapezoid Porcelain Mosaic, Fambe Pink, ZOB1403
9 Minimalist Gray
Considering use the minimalist gray color as your feature wall now! If you're looking to ready make a minimalist space with tile, this gray mosaic tile is an ideal and wonderful choice. The glossy glazed surface and fun trapezoid shape on our new design tiles add an incredible amount of depth that makes it immediately attractive.
For more unique wall tile design, visit our blog: The Glamour Of Oval Porcelain Mosaic Tile >>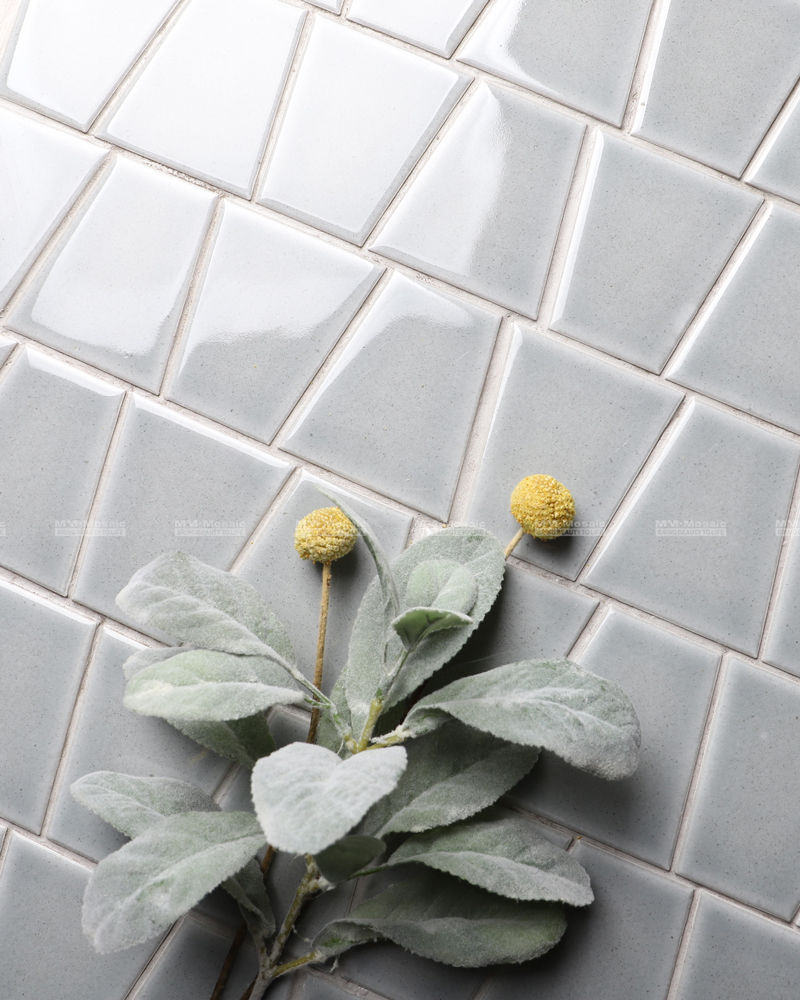 Featured Product: Premium Glazed Trapezoid Porcelain Mosaic, Glossy Light Gray, ZGB1304
10 Understated White Tones
Going understated style with our white trapezoids is an ideal and perfect way to offer a subtle backdrop to your home while improving the whole design. These matte surface white trapezoids have a smooth touching finish that brings a plain feeling, especially in a kitchen or shower.
For more ideas on our white glazes, visit our blog: Daisy Flower Porcelain Mosaic Tiles Add Chic Style To Space >>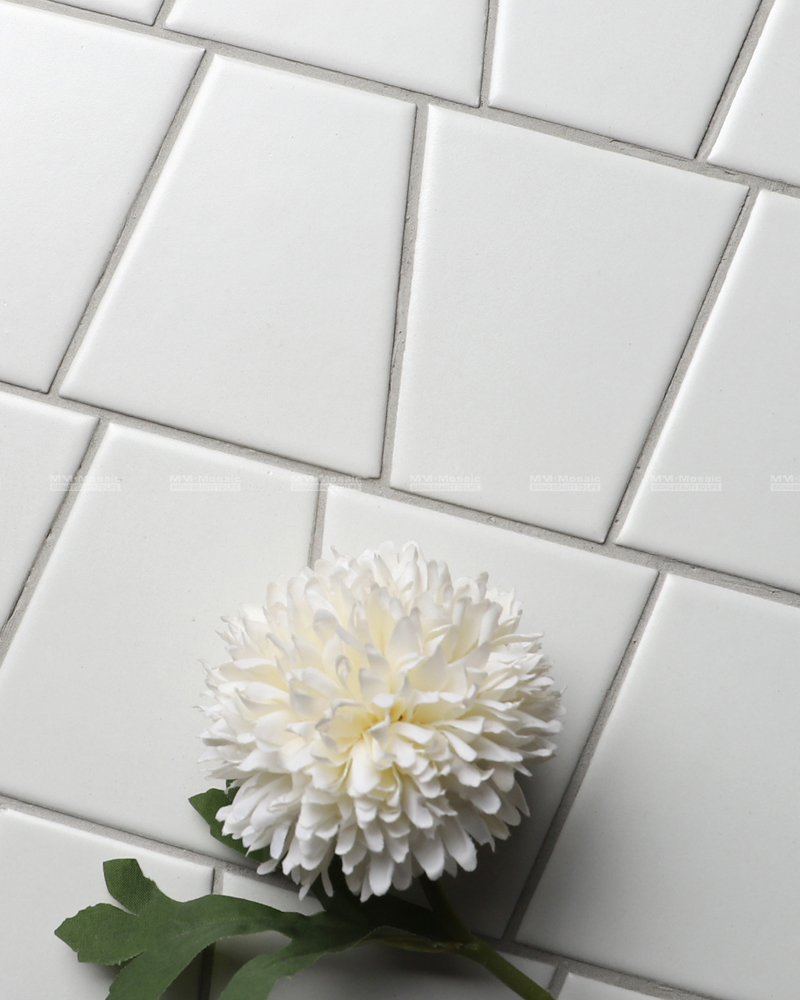 Featured Product: Glazed Matt Trapezoid Porcelain Mosaic, Matt White, ZMB1202
11 Chic Walls
Oftentimes interior designers will overlook an all-white backdrop because it might appear to be a bit unimpressive, but that's only because they haven't met our matte white trapezoid yet. Filled with personality, character, and smoothing touch that you just won't see in other pure white wall tiles.
For more chic wall design, visit our blog: 5 New Distinct Design With Waterjet Marble Mosaic Tiles >>
12 Farmhouse Style Kitchen
Nothing appealing things than our characteristic trapezoids in matte white color. This glaze color often gives us a plain and simple feeling. While combining the wooden furniture and some refreshing greenery, you will get an easeful farmhouse style kitchen.
For more white kitchen backsplash ideas, visit our blog: 10 Projects That Show Monochromatic White Stand Out >>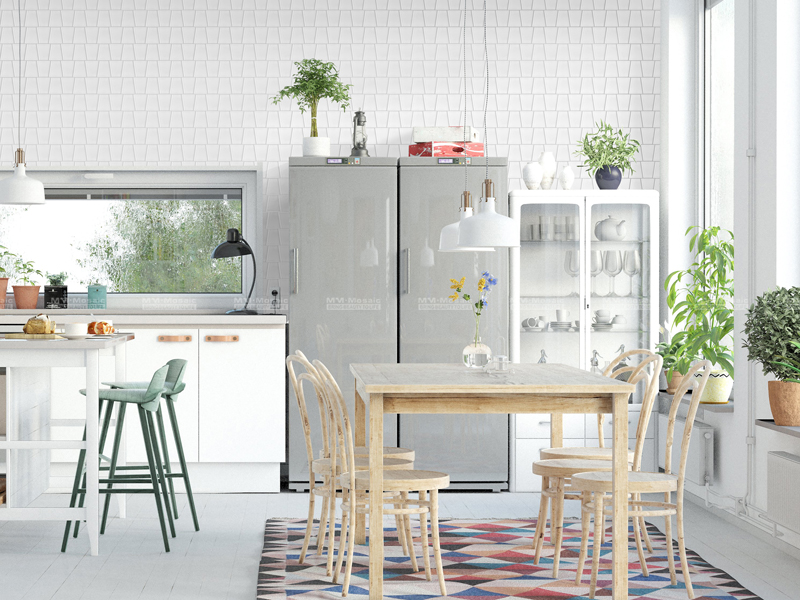 13 Bring Some White Hues
While covering a whole feature wall with this matte white glaze trapezoids, you will be able to see all the perfect imperfections of every wall tile. The cherry on top? Hanging a black mix white decor thing might be a great idea, just like the below space show.
Find more trendy home design here: 20+ Trend Home Decor Ideas That Wake Up 2021 >>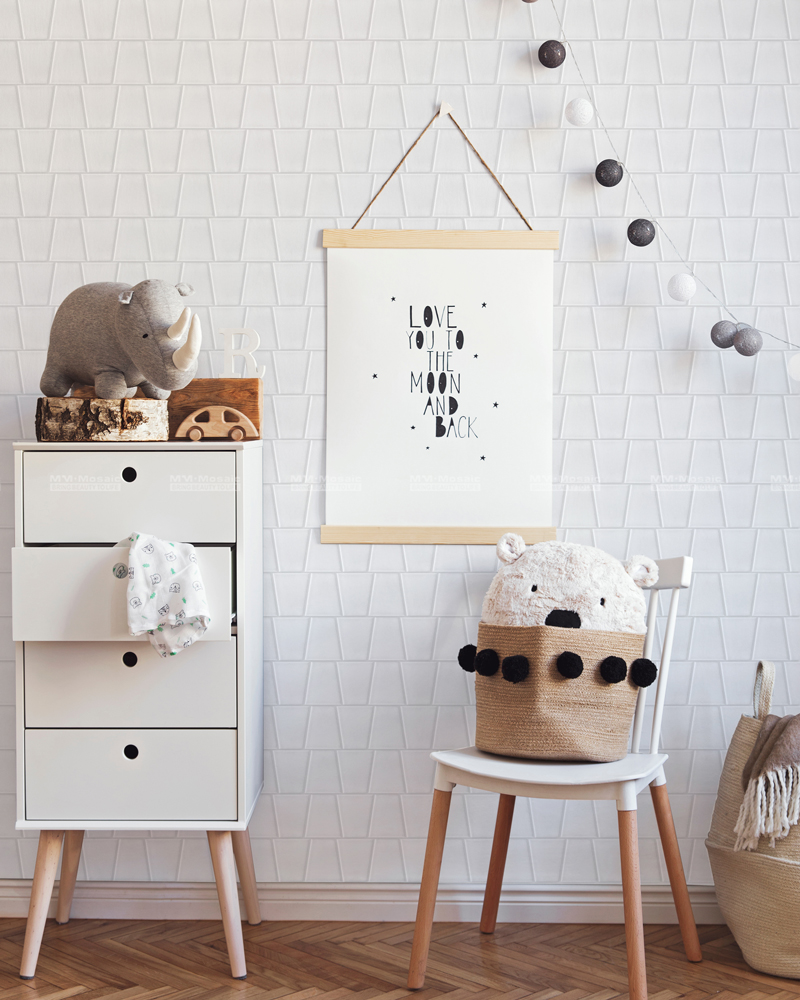 14 Kitchen Island Inspo
The beautiful trapezoid shape is a chic way to add character and dimension to this clean and inviting open kitchen. The matching simple island with matte white trapezoids is the perfect palette to let the tile appealing. Have a high tea with your friends in this kitchen will be a great thing!
For more kitchen ideas, visit our project: Creative Vietnamese Backsplash Inspired By Shield Shape Mosaic >>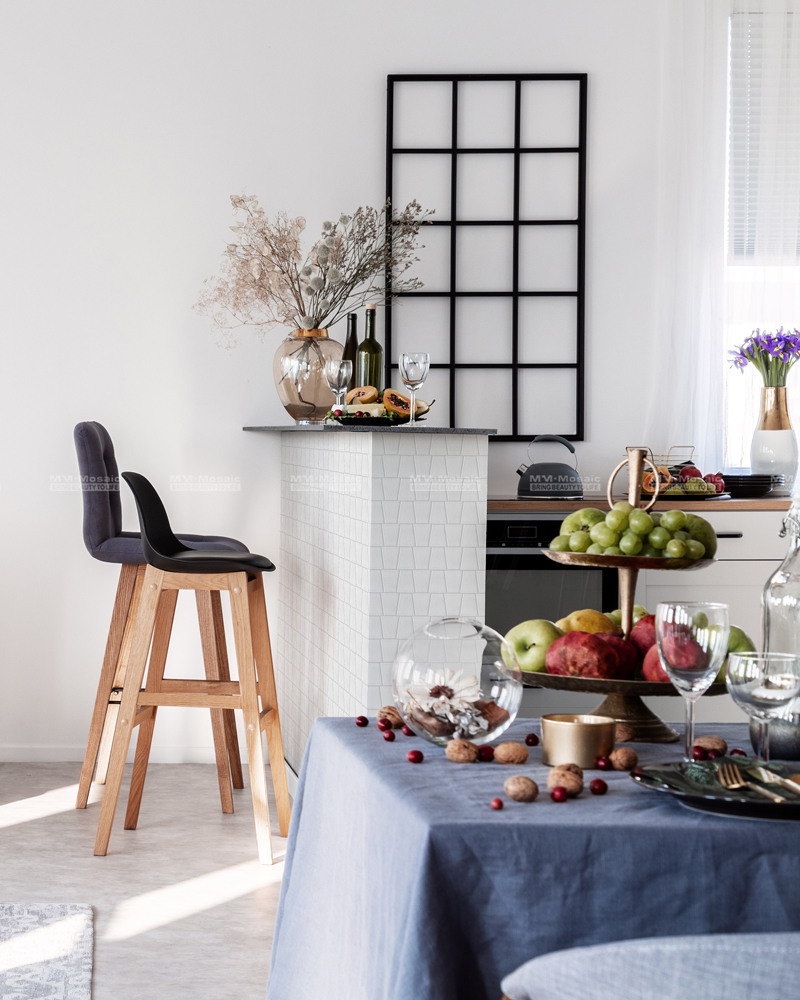 15 Matt Black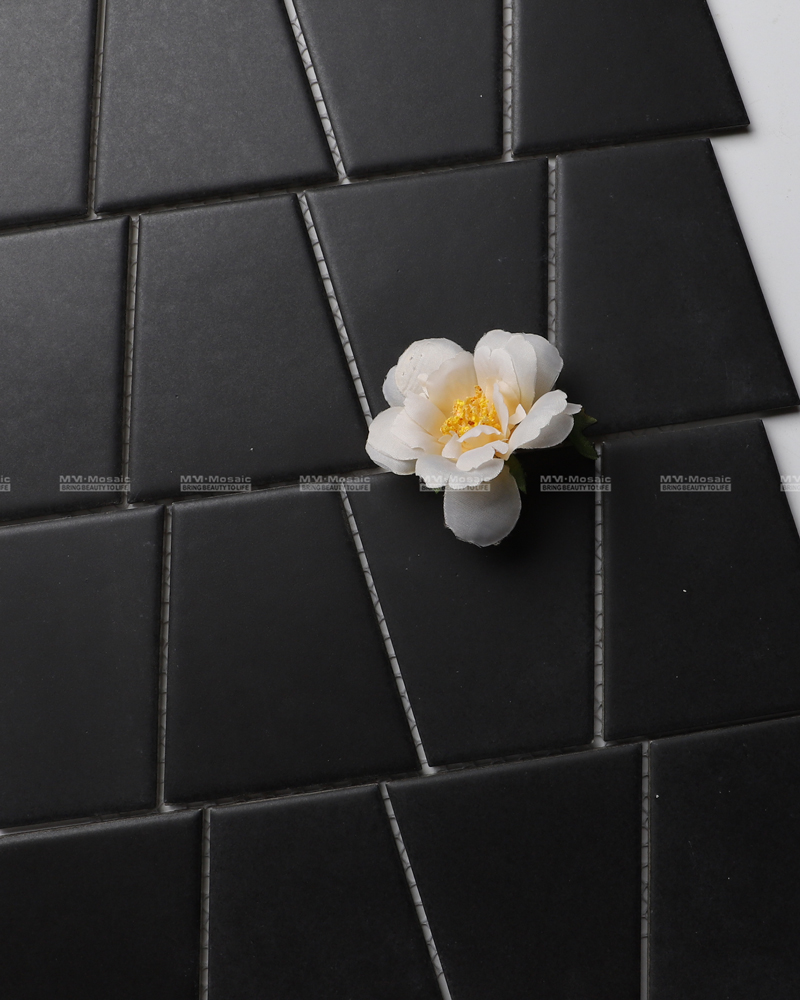 Featured Product: Glazed Matt Trapezoid Porcelain Mosaic, Matt White, ZMB1102
16 Matt Dust Gray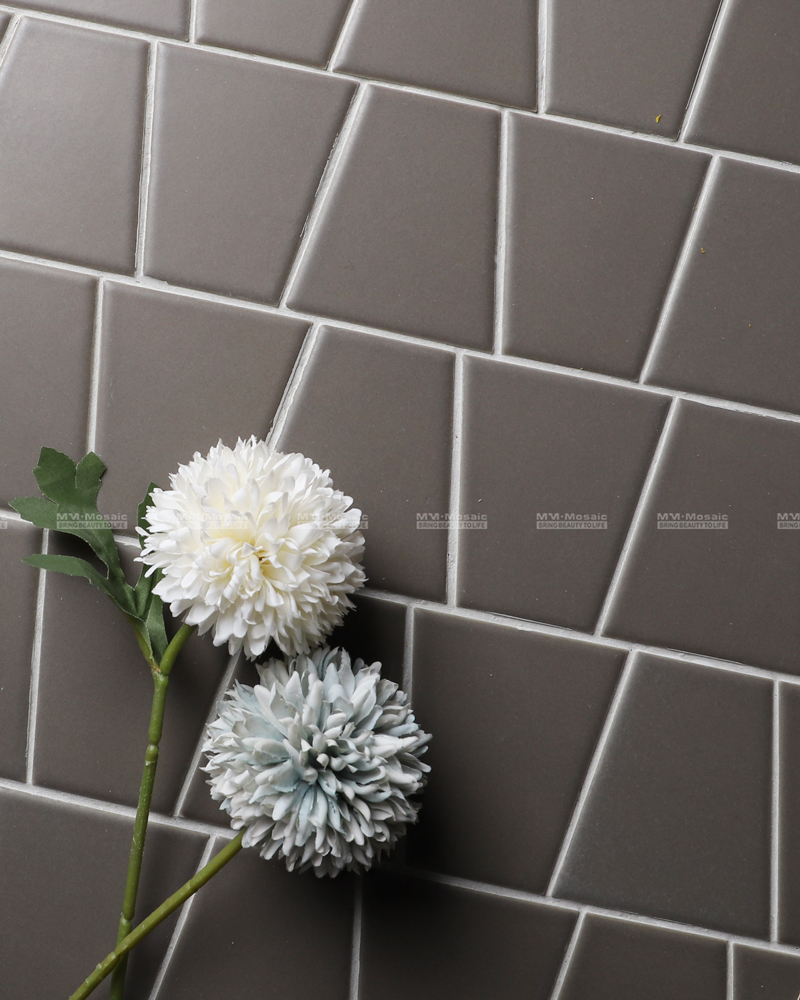 Featured Product: Glazed Matt Trapezoid Porcelain Mosaic, Matt Dust Gray, ZMB1202
Get Inspired?
Falling in love with our creative trapezoids? Inspired by our interior design with new things? Order trapezoid tile samples to see, touch and feel in person. We're so excited to hear your ideas with our new things. MM-Mosaic will design more chic and fun tile for your future projects!